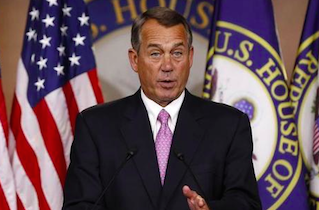 According to a new report from Roll Call, House Speaker John Boehner (R-OH) is considering a lawsuit that would challenge the executive actions that President Barack Obama has been using on a variety of issues that have otherwise stalled in Congress. During a meeting with fellow Republicans Tuesday, Boehner reportedly raised the possibility of the House of Representatives filing the lawsuit, which would aim to curtail the president's power.
"The president has a clear record of ignoring the American people's elected representatives and exceeding his constitutional authority, which has dangerous implications for both our system of government and our economy," Boehner's spokesman Michael Steel said. "The House has passed legislation to address this, but it has gone nowhere in the Democratic-controlled Senate, so we are examining other options."
In response, House Minority Leader Nancy Pelosi spokesman Drew Hammill said, "While the urgent needs of the American people are ignored by House Republicans, it is reprehensible that Speaker Boehner plans another doomed, legal boondoggle after he spent $2.3 million in taxpayer dollars unsuccessfully defending discrimination in federal courts."
In 2011, Boehner convened the Bipartisan Legal Advisory Group in order to challenge the Obama administration's decision to stop defending the Defense of Marriage Act. The House later dropped its case and the Supreme Court subsequently deemed DOMA unconstitutional.
Over the past couple of years, President Obama has used executive actions in attempts to help curb gun violence and ban anti-gay discrimination in the workplace. Most recently, the president's Climate Action Plan employed a variety executive actions to cut carbon pollution.
[Photo via Larry Downing/Reuters]
— —
>> Follow Matt Wilstein (@TheMattWilstein) on Twitter
Have a tip we should know? tips@mediaite.com