Boston Cop Allegedly Assaults Uber Driver, Takes His Car, Then Assaults Driver Again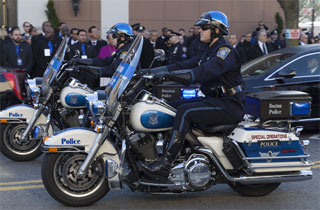 An off-duty Boston cop was released on bail today after he allegedly assaulted an Uber driver, called racial slurs, stole his car, used racial slurs agains another guy, and then assaulted the Uber driver again.
Yeah, this is real.
According to a police report of the incident obtained by the Boston Globe, Officer Michael Doherty, a 16-year veteran of the Boston Police Department, was charged with assault and battery and of using a motor vehicle without authority, and placed on paid administrative leave.
In the report, the Uber driver claims that he was hailed by Doherty around 2:45 a.m. on Sunday morning, and was asked to be dropped off in South Boston. At a certain point, Doherty became convinced that the driver had taken him to the wrong location. "What, you think I'm stupid, you [expletive] [Latino slur]?" he asked.
Soon after, Doherty began hitting the driver, causing the driver to stop the car and get out. Doherty followed him out of the car, and then, when the driver tried to flag down drivers for help, got in the driver's seat and drove off:
The Uber driver got into the assisting man's car, and they followed Doherty, who exited the victim's vehicle at East First Street and Farragut Road, the report said.

He walked toward the Uber driver and the man who provided help, who is black, and said, "What do you want, you [expletive]," and then used the n-word, the report said.

Doherty allegedly knocked the Uber driver to the ground and kept hitting him as the other man tried to pull Doherty off, the report said. Doherty walked away when police arrived but was later arrested.
Uber released a statement saying that they stood behind their driver, and were "ready to assist law enforcement" in the investigation. They also banned Doherty from the service per company policy.
[h/t CBS Boston]
[Image via lev radin / Shutterstock.com]
—
>> Follow Tina Nguyen (@Tina_Nguyen) on Twitter
Have a tip we should know? tips@mediaite.com