BP Parent Company Transocean Gives Executives Bonuses For "Safety Performance"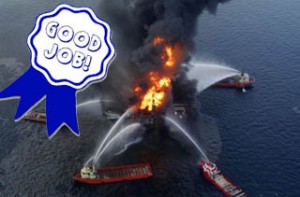 Now, I didn't go to business school so I don't know anything about business. Really, I'm just waiting for Mogulite to launch so someone can explain it to me. However, I think I've figured something out. Knowing how all of the financial sector executives were treated after the recession hit and now reading the news that Transocean, the company that owns the Deepwater Horizon oil rig, has given their top executives bonuses for "safety performance," I now think I've figured out what the term "bonus" really means. Here I had been thinking it was a gift for doing well. I now see that, actually, "bonus" is to the business world what "special" is to education.
From MSNBC.com:
"Transocean Ltd. gave its top executives bonuses for achieving the 'best year in safety performance in our company's history' — despite the explosion of its oil rig that killed 11 people, including nine of its own employees, and spilled 200 million gallons of oil into the Gulf of Mexico.

…

Transocean noted 'the tragic loss of life' in the Gulf when the rig operated by BP PLC exploded last April. But it said the company still had an "exemplary" safety record because it met or exceeded certain internal safety targets concerning the frequency and severity of its accidents, according to the filing with the Securities and Exchange Commission on Friday.

Safety accounts for a quarter of the executives' total cash bonuses. The total bonus for CEO Steve Newman last year was $374,062."
Now, some people might think this is kind of crazy. After all, the MSNBC article also reminds us that the official commission on the oil rig disaster placed the blame at "a series of time and money-saving decisions by Transocean, BP and oil services company Halliburton Inc." However, it's important to note that the bonuses were only given for the "best year," not for having a "good year." For all we know, every other year in Transocean's history has been filled with serial killers, alien invasions, and accidental genocides.
I mean, that has to be the case, right? That's the only way that directly helping cause one of the biggest disasters in our nation's history would still leave you viable to have the "best year in safety performance." At least, that's what I think.
And I don't know that much about business.
(h/t Wonkette)
Have a tip we should know? tips@mediaite.com