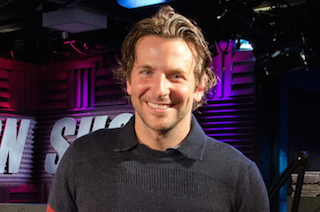 Actor Bradley Cooper stopped by The Howard Stern Show Tuesday to promote his new film, American Sniper and Broadway show, The Elephant Man, but while he was there the host also asked him about his role in orchestrating President Barack Obama's appearance on Funny or Die's Between Two Ferns with Zach Galifianakis. As Politico had reported earlier this year, Cooper confirmed to Howard Stern that the whole thing was his idea.
Cooper, who campaigned for the president in 2008, explained that it was before a State Dinner in 2013 that he and Valerie Jarrett called his Hangover co-star Galifianakis from the White House to ask if he would be interested in "interviewing" Obama. "He thought I was joking, obviously," Cooper said.
Later that evening, by the time Cooper approached Obama in the receiving line to shake his hand, the president said, "I'm going to talk to Zach."
RELATED: The Five Piles on Bradley Cooper for Orchestrating Obama's Between Two Ferns
"Isn't it also true that you also were behind normalizing relations with Cuba?" Stern joked. He added, "I don't want to trivialize it, but what are you doing about ISIS and why don't you try and focus some attention on that? What do you and Zach have in mind for that?"
Stern and Cooper agreed that any criticism of the president's appearance on Funny or Die was unwarranted and that it was in no way "beneath" the dignity of the office.
Listen to audio below, via SiriusXM's Howard 100:
And watch the Between Two Ferns video, which now has 28 million views, below, via Funny or Die:
[Photo via SiriusXM]
— —
>> Follow Matt Wilstein (@TheMattWilstein) on Twitter
Have a tip we should know? tips@mediaite.com