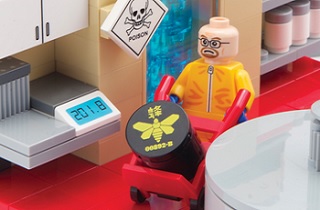 As American Movie Classics' Breaking Bad gets ready to conclude its run as the Best Show On Television™ (deal with it, Game of Thrones), one of the show's iconic settings has been immortalized in interlocking plastic non-Lego bricks, and is selling like Walter White's blue meth. Custom toymaker Citizen Brick has earned the ire of pearl-clutching British reporters, and the hard-earned $250 of many a Heisenberg fan with its "Superlab Playset," a Leg-faux replica of Walter White's former workplace.
Fan-created Breaking Bad Legos have been the toast of the internet for quite some time, but Citizen Brick appears to be the first to market a ready-made version of the show's settings and characters.
Walking that thin line between "cease" and "desist," the company takes pains to differentiate its toy from the iconic bricks with which its toys appear to be compatible, and never speaks the name of the show or characters that inspired the piece:
Bummed out that your favorite show is going off the air? Well soothe yourself with the Citizen Brick Superlab Playset. Who knows what fun you'll cook up with this deluxe set, chock full of realistic details, and three exclusive minifigs! Over 500 parts!

Please note: Due to the sheer awesomeness of this building set, please allow added time for delivery. Sets ship approximately 2-3 weeks after time of purchase.

This set is a product of Citizen Brick, and is not sponsored, authorized or endorsed by the LEGO Group, owners of the registered LEGO(R) trademark.
The characters on the package are identified as "Chemistry Enthusiast" (presumably Bryan Cranston's Walter White), "Chicken Enthusiast" (Giancarlo Esposito's facially-challenged Gus Fring), and "World's Best Grandpa" (Jonathan Banks' Belize-bound fixer Mike Ehrmantraut).
[imageviewer id=1111]
The British, who can never just point and say "How cool!", are up in at least one arm about it, as UK Daily Mail reporter Mia De Graaf pegged her report on the clearly adult-marketed toy to hopefully feigned outrage:
Children can now build their own drug dens with a shocking new play kit inspired by TV show Breaking Bad.

The sell-out £160 kit, branded 'SuperLab', lets any child or adult recreate Walter White's notorious crystal meth lab.

Complete with protective masks, drug paraphernalia, figurines and a version of the car from the show, infants can even reenact scenes from the series.

The toy looks similar to a classic Lego set, although it is not connected to the Danish company in any way and was made by a separate firm.
The playsets are sold out now, but the success of the item should be an inspiration for other Breaking Bad product tie-ins, like maybe Krazy 8 Wonder bread, with the crusts pre-cut, or a Where In The World Is Mike? board game (hint: it ain't Belize), or Combo's Combos pretzel snacks, filled with the bullets of a rival drug gang. Wash that down with an ice-cold can of Skinny Pete's Diet Cola. The possibilities are endless (I'm looking at you, Easy Bake).
[photos via Citizen Brick]
(h/t Wonkette)
Have a tip we should know? tips@mediaite.com