BREAKING: Former House Speaker Dennis Hastert Sentenced to 15 Months in Prison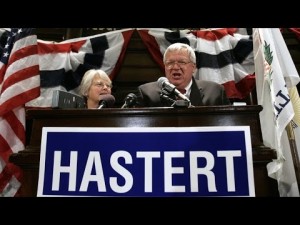 On Wednesday afternoon, former Speaker of the House Dennis Hastert was sentenced to 15 months in prison for his role in misleadingly withdrawing and paying money to his victims of sexual misconduct. The allegations come from Hastert's time as the Yorkville High School wrestling couch, where he would regularly put a "'Lazyboy'-type chair in direct view of the shower stalls in the locker room where he sat while the boys showered," according to the Chicago Sun Times.
The 73-year-old Hastert years later tried to pay $3.5 million to someone as part of a hush money agreement. The New York Times reported last year that Hastert and the individual in question met in 2012 to discuss the arrangement which was done, "in order to compensate for and conceal his prior misconduct." While the statute of limitations for his alleged sexual misconduct has run out, Hastert still faced a felony for crimes involving the so-called hush money that carried a maximum five year sentence.
This morning, Hastert was seen arriving at the Chicago courthouse in a black town car, before being brought into the building in a wheelchair. The original sentencing date in January was postponed given the former Speaker's health, which his lawyers have lobbied should be a consideration for him to receive probation.
During Wednesday's hearing, it came out that one of Hastert's victims who chose to remain anonymous until today was actually the younger brother of a longtime political ally of Hastert's. 53-year-old Scott Cross testified about an incident one night in the high school locker room. Cross' older brother Tom Cross is a Republican member of the Illinois House of Representatives. Judge Thomas M. Durkin with the Northern District in Illinois called Hastert a "serial child molester" during the hearing, continuing, "there's no question the defendant lied."
BREAKING: Dennis Hastert tells court he's "deeply ashamed," says he "mistreated" some athletes he coached.

— The Associated Press (@AP) April 27, 2016
Judge Durkin calls Hastert a "serial child molester" https://t.co/QOoXDyghHr

— NBC Chicago (@nbcchicago) April 27, 2016
Former House Speaker Dennis Hastert sentenced to 2 years supervised release in hush-money case. https://t.co/5PtwdoENvB

— CNN Breaking News (@cnnbrk) April 27, 2016
Durkin: "Nothing is more stunning than uttering serial child molester and Speaker of the House in the same sentence." @dailyherald #Hastert

— Kerry Lester (@kerrylester) April 27, 2016
BREAKING: Judge Durkin sentences #hastert to 15 months in prison.

— Jim Williams (@JimWilliamsCBS2) April 27, 2016
Hastert served as the Speaker of the House from 1999 until 2007, the longest serving speaker for the Republican party.
Have a tip we should know? tips@mediaite.com