Michael Avenatti Reveals Client Making 'Gang Rape' Allegation Against Kavanaugh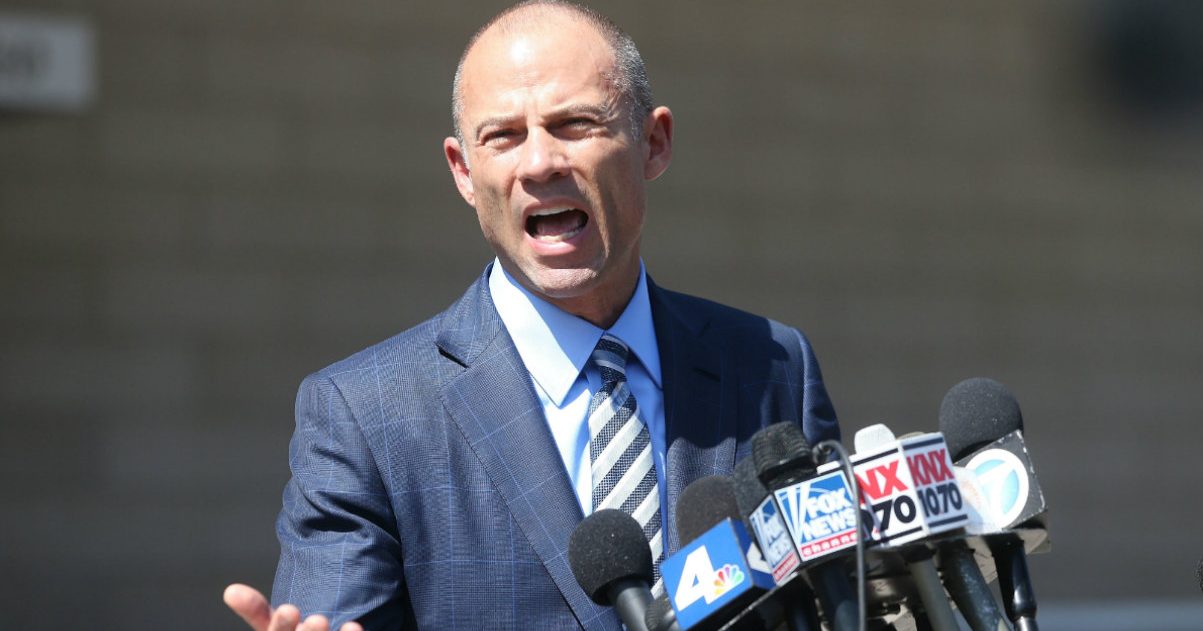 Attorney for Stormy Daniels, Michael Avenatti, earlier this week, claimed to have a client with a third allegation against Supreme Court nominee Brett Kavanaugh. He made the announcement, and tweeted lurid accusations, without offering the identity of the client or any evidence.
Today, Avenatti tweeted a name and photo of that client, along with a sworn statement from the alleged victim laying out her serious allegations.
Here is a picture of my client Julie Swetnick. She is courageous, brave and honest. We ask that her privacy and that of her family be respected. pic.twitter.com/auuSeHm5s0

— Michael Avenatti (@MichaelAvenatti) September 26, 2018
In the statement, Julie Swetnick, a current government employee, alleges Kavanaugh and his friend Mark Judge attended a party where she was drugged and gang raped by a series of boys. While she does not accuse Kavanaugh of assaulting her, she claims she witnessed him participate in the gang rapes.
In his tweet that included the screenshots, Avenatti asserted that Kavanaugh's nomination must not go forward without more investigation of the claims.
Below is my correspondence to Mr. Davis of moments ago, together with a sworn declaration from my client. We demand an immediate FBI investigation into the allegations. Under no circumstances should Brett Kavanaugh be confirmed absent a full and complete investigation. pic.twitter.com/QHbHBbbfbE

— Michael Avenatti (@MichaelAvenatti) September 26, 2018
Paragraph 13 of the sworn statement (below) has the specific personal allegation.
In approximately 1982, I became the victim of one of these "gang" or "train" rapes where Mark Judge and Brett Kavanaugh were present. Shortly after the incident, I shared what had transpired with at least two other people. During the incident, I was incapacitated without my consent and unable to fight off the boys raping me. I believe I was drugged using Quaaludes or something similar placed in what I was drinking."
Davis' statement (below) also alleges that she witnessed Kavanaugh waiting in a rape line for his "turn" in the gang rape of another woman, whom they allegedly incapacitated.
I also witnessed efforts by Mark Judge, Brett Kavanaugh and others to cause girls to become inebriated and disoriented so they could then be "gang raped" in a side room or bedroom by a "train" of numerous boys. I have a firm recollection of seeing boys lined up outside rooms at many of these parties waiting for their "turn" with a girl inside the room. These boys included Mark Judge and Brett Kavanaugh."
Below are the images of the statement shared by Avenatti.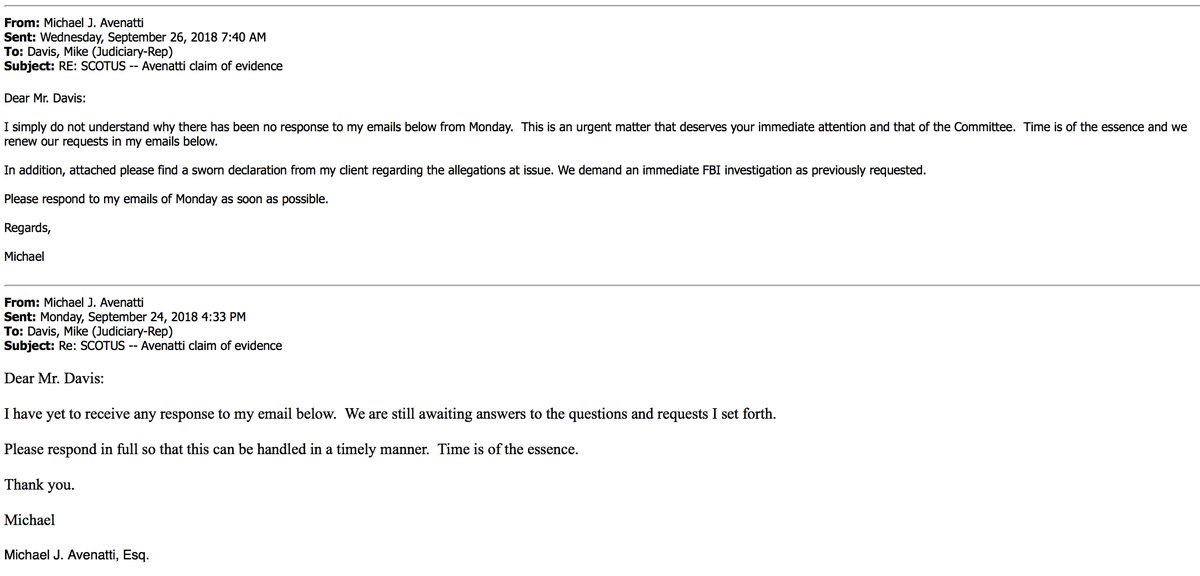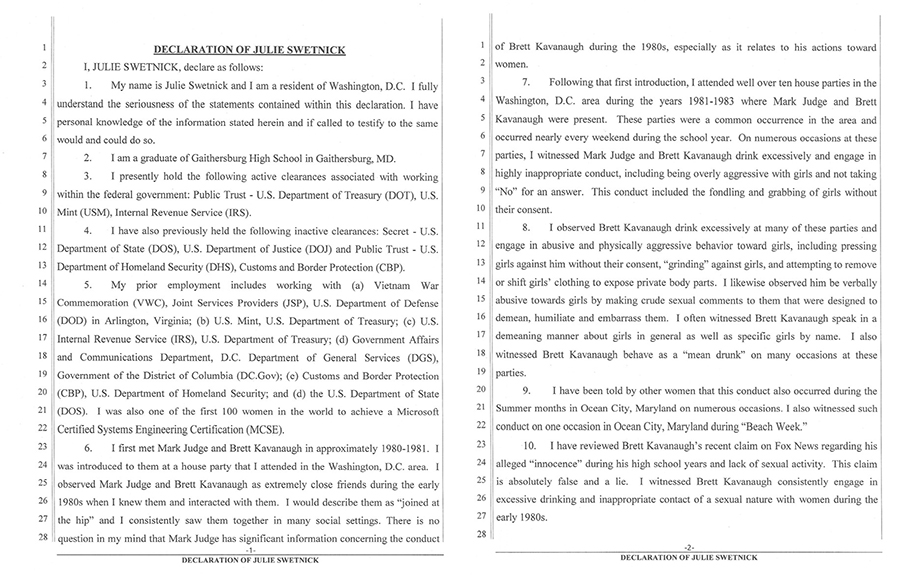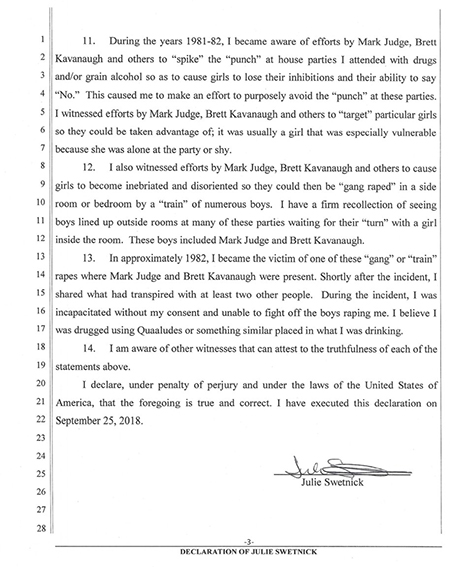 UPDATE: Kavanaugh has denied the allegation:
"This is ridiculous and from the Twilight Zone. I don't know who this is and this never happened."
[Photo via Getty Images]
—
Follow Caleb Howe (@CalebHowe) on Twitter
Have a tip we should know? tips@mediaite.com