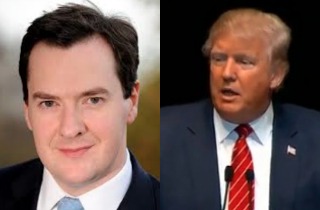 Donald Trump's call to ban all Muslims from entering the U.S. has earned ire from both sides of the political spectrum, as well as condemnation from quite a few people abroad. However, despite a petition calling for Trump to be permanently blocked from entering the United Kingdom, Chancellor and Finance Minister George Osborne said that the mogul frontrunner will not be barred despite the outrage.
British law permits the government to block people who have endorsed hate speech, or those who are considered a security threat to the nation. The petition asserts that Trump's latest rhetoric was the final straw, and earned the support of British citizens with nearly 250,000 signatures. The government was required to give a response, as well as address the matter in a Parliamentary debate.
The Guardian reported that Osborne represented Prime Minister David Cameron before the House of Commons today, and took questions that included whether Trump has incited racial hatred. Osborne agreed with Cameron's condemnation from yesterday by saying Trump's remarks "fly in the face of the founding principles of the United States," but that banning a presidential candidate was not the correct response for the British government.
"The best way to defeat nonsense like this is to engage in robust and democratic debate, and to make it clear his views are not welcome," Osborne said.
RT noted that other British officials have not taken kindly to Trump and his recent assertions that the UK's acceptance of Muslims have rendered certain areas of London to be irredeemably dangerous. London Mayor Boris Johnson said Trump's comment was a "ill-informed" insult to "London's proud history of tolerance and diversity," and the Scotland Yard has also refuted Trump's claim.
[Image via wikimedia / screengrab]
— —
>> Follow Ken Meyer (@KenMeyer91) on Twitter
Have a tip we should know? tips@mediaite.com