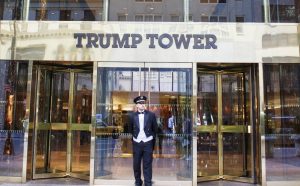 Since it was announced that President-elect Donald Trump's wife and young child will be continuing to reside for a while in Trump Tower when he goes to D.C. to begin his presidency, security around the upscale building has increased dramatically. The Secret Service is even trying to rent a floor there. Now, brokers are using that increased security to entice renters.
Politico is reporting that brokers are "desperate" to get dwellers into Trump Tower. Out of 16 active sale properties and 16 active rentals, both types of available housing have seen six price drops and only one price increase in the last year. In total, that's 12 drops and two increases. Debra Stotts, a realtor who has worked with the Trump Organization, told Politico that the price drops had nothing to do with Trump and everything to do with an oversaturated market, but now might still be a good time to recall that residents of a different Trump-branded building in New York reported being embarrassed and disgusted by the name on their complex during campaign season.
One email blast from real estate agency Douglas Elliman came less than a week after Trump was elected and advertised "Secret Service protection" right in the subject line. The body of the email included the assurance that the one-bedroom being advertised was "The Best Value in the Most Secure Building in Manhattan."
Of course, Trump doesn't profit directly from anyone who rents or owns an apartment in the tower. Most of the 263 units are owned individually, so the owners get the sale or rent money. Trump Corporation simply retains a processing fee for unit sales — around $2,000 per application — and $250 per additional adult dweller.
When asked about the likelihood of anyone wanting to move into Trump Tower following its namesake's big presidential win, Stotts said, "Honestly, it's 50-50, just like the polls. There are those who flee, there are those who are going to the building and want to be associated with Trump as a winner."
If you're contemplating a move, would like Secret Service protection, and want "to be associated with Trump as a winner," start here. The average price of a sale unit is $4,083,750 and the average rental is $11,078.
[image: Wikimedia Commons/Bin im Garten]
Have a tip we should know? tips@mediaite.com