Brzezinski Slams Santorum Over Muslim-American Relations: 'Come on, You Know Better!'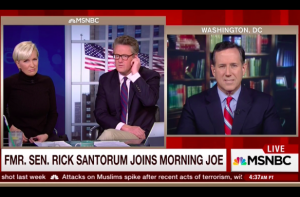 Presidential candidate Rick Santorum spoke with Mika Brzezinski and Joe Scarborough on Monday's Morning Joe, and the conversation turned to the Senator's recent comments at the GOP debate regarding the link between Islam and jihadists. The show's cohosts quickly turned on Santorum and pushed him on his viewpoints of Muslim-Americans and his double-standard on "white man" domestic gun ownership.
Things got heated when Scarborough asked Santorum, "At the same time we're trying to stamp out Islamic radicalism [how do we] reach out aggressively to let Muslim-Americans know that they are every bit as part of the American dream as you or me?". Santorum would not respond to that question directly, instead choosing to put the emphasis on the responsibility of the Muslim-Americans themselves.
Santorum offered, "Well the answer is, well just, I would ask that in reverse: what are they gonna do to reach out to make sure they are confronting…"
Brzezinski and Scarborough cut off the GOP candidate immediately, combating Santorum on his views of the role of Muslim-Americans in defeating the threat of the Islamic State.
"I mean come on Rick Santorum, you know better, you're a smart guy!" Brzezinski fired back. She then attempted to highlight the seeming double-standard of Santorum's argument, noting that when gun violence occurs people rarely look to the collected white male community to offer condemnation the way Muslim-Americans are expected to distance themselves from radicalism.
Check out the above video from MSNBC.
[image via screengrab]
—
>> Follow J.D. Durkin on Twitter (@MediaiteJD)
Have a tip we should know? tips@mediaite.com