Cornell's 'Diversity Commitment' Limits Decorations to Snowflakes, 'Non-Religious' Imagery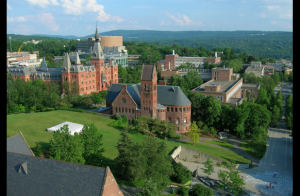 Ahh, for the multitude of people who have long complained about the PC culture that has taken strangle hold over institutions of higher education, ivy league Cornell may just be the latest target of ridicule. After Fox News' Jesse Watters got himself kicked off campus earlier this semester for interviewing students, Cornell has seemingly upped the ante with its "Guidelines for Inclusive Seasonal Displays". Hint: the list of approved displays/decorations is far, far shorter than the list "not consistent" with the University's "Commitment to Diversity and Inclusiveness".
Snowflakes — yes, just generic, non-offensive snowflakes — are apparently in keeping with Cornell's commitment to diversity and University assembly. Also, "Trees (in accordance with Fire Safety Guidelines) decorated with snowflakes and other non-religious symbols".
Then, the Ivy-league school offers a grey area of holiday expressions that fall under those that "should be basis of dialogue within unit or living area," aka, normal things that you may want to hang up but need to talk over with your room and floor mates about first:
Trees decorated with bows, garland and lights (in accordance with Fire Safety Guidelines)
Wreaths with bows (in accordance with Fire Safety Guidelines)
Combination of snowflakes, (in accordance with Fire Safety Guidelines), Santa Claus figure, and dreidel
Holly
For those of you keeping score at home, regular snowflakes are fine, but if you dare combine those snowflakes with Santa Claus or a dreidel, you must first reach consensus with those around you. Got it.
Then comes the lengthiest list of decorations that are, "NOT Consistent with Either University Assembly Guidelines or the University's Commitment to Diversity and Inclusiveness":
Nativity scene
Menorah
Angels
Mistletoe
Stars at the top of trees
Crosses
Star of David
The published information is a part of the Cornell University "Fire Safety Guidelines For Holiday Displays" fire code compliance document from the Environmental Health and Safety department. Despite information regarding basic lighting and dorm room candle safety, the guidance document also states the following (highlight theirs):
University members are reminded to be respectful of the religious diversity of our students and colleagues and are encouraged to use an inclusive approach in celebrating the holiday season. Individuals and units demonstrate this inclusive approach by:
– Focusing on the winter season rather than a particular holiday
– Displaying symbols that visually represent holidays of several religions in combination with
secular decorations of the season.
The guidance document was approved by Ron Flynn, who the school identifies as the University Fire Marshal working for the Fire Code Compliance and Event Management staff.
[image via Wikipedia Commons]
—
>> Follow J.D. Durkin on Twitter (@MediaiteJD)
Have a tip we should know? tips@mediaite.com