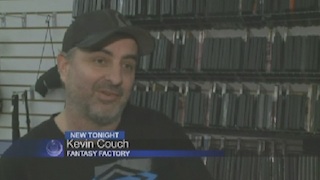 As someone who could never be accused of being in any way decisive, I've always respected people who know exactly what they want and then go for it. That's why I have a begrudging admiration for the criminals who broke into Fantasy Factory, a Yuba County, California sex shop. They didn't want money, so they didn't take money. They just went straight for the toys.
RELATED: C-SPAN Getting Hammered With Prank Calls About Mitt Romney's Penis
From CBS Sacramento:
"'They just took the toys and left,' [store owner Kevin Couch] said. 'They didn't take the money or anything so I was lost. The sheriff's department was lost. When he saw all the stuff in here and he goes "that's all they took?" and I was like "yeah."'

So Kevin thinks it was kids just trying to make a little mischief in forbidden territory.

'They see the adult store here, they can't come in here they can't purchase this stuff so they are bored and they break in and come in and take it at night when no one is here,' he said.

So far, there are no suspects, just a suspected age range: boys probably about 13 to 17 years old."
Sure, teenagers may seem like the obvious choice for the culprits, but I think the Yuba County police need to think outside the box here. Isn't it possible that they eschewed the money because they're not your typical burglars but, rather, have a more altruistic goal in mind? I think it's clear that we have a sex toy Robin Hood on our hands, stealing from the sex toy rich and giving to the sex toy poor.
It's a much better theory. And it's also the plot of the new screenplay I started writing 30 seconds ago, The Adventures of Robin Hood and his Hairy Hand. I'm thinking of still casting Russell Crowe.
Watch the news report from CBS Sacramento below:
Have a tip we should know? tips@mediaite.com