"Burn A Koran Day" Sparks Protest From Afghan Muslims And General David Petraeus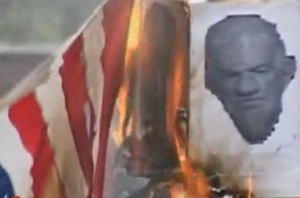 Terry Jones is the pastor of a Gainesville, Florida based Dove World Outreach Center who is planning "International Burn a Koran Day" for next Saturday, September 11, 2010. Not only has this bit of agitprop gained that previously unknown local pastor attention from the U.S. media, but as one can see in the AP video report below, he's also been burned in effigy outside of a mosque in Kabul, Afghanistan. Oh, and General David Petraeus has condemned him, claiming that the demonstration would "endanger troops," adding of the protest "It is precisely the kind of action the Taliban uses and could cause significant problems."
Writing for the Washington Post, David Nakamura reports:
"It is precisely the kind of action the Taliban uses and could cause significant problems," Petraeus, the top U.S. and NATO commander in Afghanistan, said in a statement. "Not just here, but everywhere in the world we are engaged with the Islamic community."

The U.S. Embassy in Afghanistan also condemned the Florida church's plan, saying the Obama administration opposes "acts of disrespect" against Islam.

Petraeus's comments come a day after 500 residents protested at a Kabul mosque, burning American flags and chanting anti-U.S. slogans.

The Dove World Outreach Center, a 50-member evangelical Christian church in Gainesville, Fla., announced plans to burn the Islamic holy books on Saturday, the ninth anniversary of the Sept. 11, 2001, terrorist attacks on the United States. At the Kabul protest, residents burned an effigy of Dove World pastor Terry Jones.

"I am very concerned by the potential repercussions of the possible Koran burning," Petraeus said. "Even the rumor that it might take place has sparked demonstrations such as the one that took place in Kabul yesterday. Were the actual burning to take place, the safety of our soldiers and civilians would be put in jeopardy and accomplishment of the mission would be made more difficult."
And as the AP reports in the the following video report, nearly 500 Afghanistan citizens gathered outside a Kabul mosque to protest the book burning. So yes, it appears that the planned actions of the Florida minister has brought the U.S. Military and the following protesters somehow in agreement.
Have a tip we should know? tips@mediaite.com