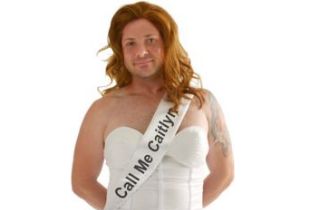 Sometimes, Halloween retailers try to cash in on the major issues of our time by developing awful (and insensitive) costume ideas that let people get in on the story. This is one of them.
Spirit Halloween, the company known for creating pop-up costume shops across the country every year, decided to create a get-up in reference to Caitlyn Jenner's courageous re-introduction to the world as a transgender woman. The costume itself is an obvious representation of her iconic cover on Vanity Fair.
"Caitlyn Jenner has proven to be the most important real-life superhero of the year, and Spirit Halloween is proud to carry the costume that celebrates her," said PR head, Trisha Lombardo. She went on to say that the company's decision shouldn't be seen as a slight against transgender people, and that it should fit in with their usual line-up depicting famous figures and celebrities.
Needless to say, not everyone is so excited with the idea. "There's no tasteful way to 'celebrate' Caitlyn Jenner or respect transgender people this way on the one night of the year when people use their most twisted imaginations to pretend to be villians and monsters," said Vincent Villano of the National Center for Transgender Equality.
Twitter users have also noted their displeasure with the outfit:
Caitlyn Jenner is not a drag queen, she is a woman. She is not a Halloween costume, SHE IS A HUMAN FUCKING BEING

— Byronic Zero (@CosN0) August 24, 2015
Seriously? Can you say "tacky a.f.?"

There's A Caitlyn Jenner Halloween Costume Now http://t.co/XoyieuL9Np

— Catherine Miss (@ktmischo) August 24, 2015
http://t.co/RwKQf8lmvj pic.twitter.com/gMSdFtRIbA

— Hayes Brown (@HayesBrown) August 24, 2015
the everyday struggle that Caitlyn Jenner and many other trans people face is not a halloween costume

— francesca (@francescaamato_) August 24, 2015
REALLY….REALLY….REALLY? I think it's offensive to the countless people that have struggled with the stigma… http://t.co/ho9Z4Bvo5R

— Jason Jacobs (@JasonbJacobs) August 24, 2015
You can see the costume for yourself here.
[h/t Advocate]
[image via screengrab]
— —
>> Follow Ken Meyer (@KenMeyer91) on Twitter
Have a tip we should know? tips@mediaite.com