Carl Bernstein Calls Out Trump's 'Unhinged' Voter Fraud Claims, Says They're More Paranoid Than Nixon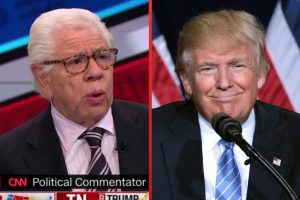 For people who had long hoped that punching his ticket for the White House would mean a different approach to conspiracy theories and the use of his shoot-from-the-hip Twitter feed, President-elect Donald Trump disappointed people again this weekend. The soon-to-be 45th Commander in Chief took to his favorite social media platform this weekend to allege widespread voter fraud to the tune of some 2 million+ votes:
In addition to winning the Electoral College in a landslide, I won the popular vote if you deduct the millions of people who voted illegally

— Donald J. Trump (@realDonaldTrump) November 27, 2016
The bizarre commentary coming from Trump even lead some to compare his actions to those of President Richard Nixon. And Carl Bernstein of all people would certainly know; the legendary Watergate reporter took to Twitter himself this weekend (a rare move) and chastised the President-elect's actions as "unhinged."
This factless madness shows @realDonaldTrump to be unhinged. If PresNixon had a Twitter account it would not reflect this much paranoia.

— Carl Bernstein (@carlbernstein) November 28, 2016
"If PresNixon had a Twitter account it would not reflect this much paranoia," Bernstein wrote, who previously called Trump's win "tragic and dangerous."
The issue surrounding voter fraud was a hotly-contested talking point on the campaign trail, with then-candidate Donald Trump frequently warning against a rigged election. However, many had hoped that the conversation surrounding this topic would have died down considering his upset victory. Perhaps sensing the growing rhetoric around the fact that former Secretary of State Hillary Clinton's margin of victory with popular votes was over two million, Trump fanned the flames of the conspiratorial once again, indicating that only "people who voted illegally," gave his Democratic rival the raw vote win.
The Trump camp has not offered any proof to support the President-elect's most recent claims.
—
[images via Gage Skidmore and CNN screengrab]
Have a tip we should know? tips@mediaite.com