Carl Paladino: Saying That Michelle Obama Should Live In Africa With Apes Wasn't About Race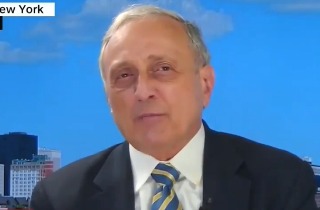 After facing backlash for a series of offensive comments about President Barack Obama and his wife Michelle Obama, Buffalo Republican politician Carl Paladino defend himself and claimed that race had nothing to do with it.
Paladino, the former Republican nominee for governor and chairman of the New York Donald Trump campaign, was asked by ArtVoice what he wishes would happen in 2017, and who he wishes would go away:
1. Obama catches mad cow disease after being caught having relations with a Herford [sic]. He dies before his trial and is buried in a cow pasture next to Valerie Jarret [sic], who died weeks prior, after being convicted of sedition and treason, when a Jihady [sic] cell mate mistook her for being a nice person and decapitated her.

2. Michelle Obama. I'd like her to return to being a male and let loose in the outback of Zimbabwe where she lives comfortably in a cave with Maxie, the gorilla.
After a firestorm of criticism, Paladino defended himself in a lengthy statement Friday obtained by Albany Times Union. "It has nothing to do with race. That's the typical stance of the press when they can't otherwise defend the acts of the person being attacked," he said. "It's about 2 progressive elitist ingrates who have hated their country so badly and destroyed its fabric in so many respects in 8 years."
"As for Barack, he's a yellow-bellied coward who left thousands to die in Syria and especially Aleppo and he gets on TV and says he feels bad he couldn't do anything about it," he continued."
"And yes, it's about a little deprecating humor which America lost for a long time. Merry Christmas and tough luck if you don't like my answer," Paladino said.
[Image via screengrab]
—
>>Follow Alex Griswold (@HashtagGriswold) on Twitter
Have a tip we should know? tips@mediaite.com