Catching Ire: Campus Conservative Group to Hold 'Catch an Illegal Immigrant' Game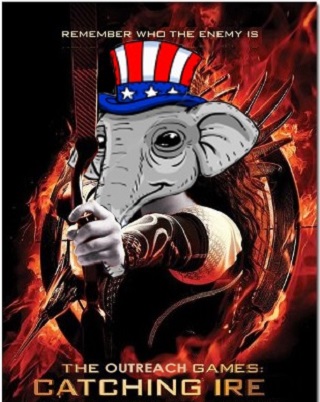 Republican outreach to minorities and women was a high priority coming out of the 2012 election, but has seen little success since then. That's probably why some Republicans aren't all that pleased with the news that a conservative campus group plans to hold a "Catch an Illegal Immigrant" game at the University of Texas on Wednesday. Participants in the Young Conservatives of Texas-UT Chapter-sponsored event will hunt down people labeled "illegal immigrant" on their clothing, in exchange for gift cards.

From The Federalist's Sean Davis:
The group — Young Conservatives of Texas-UT Chapter (YCTUT) — released details of the event on its Facebook page this morning.

"The details of the game goes as follows," states the Facebook update. "There will be several people walking around the UT campus with the label 'illegal immigrant' on their clothing. Any UT student who catches one of these 'illegal immigrants' and brings them back to our table will receive a $25 gift card."

"The purpose of this event is to spark a campus-wide discussion about the issue of illegal immigration, and how it affects our everyday lives," the description concludes.

As of 1:10 p.m. EST today, over 40 people — many of whom appear to be Hispanic — had indicated they would attend the event. A press release announcing the "Catch An Illegal Immigrant" listed Lorenzo V. Garcia, the chairmain of YCTUT, as the main point of contact for press inquiries.
The event is sure to generate the extensive publicity it seeks, aided by those eager to portray Republicans as anti-immigrant, and comes at a time when the GOP is already feeling pressure to pass comprehensive immigration reform. The Senate has already passed a comprehensive bill, but Speaker of the House John Boehner does not support it, and will not allow a vote on it. Perhaps that's why Republicans like former Bush administration staffer Ben Domenech aren't so keen on the group's move.
Have a tip we should know? tips@mediaite.com