Chaos at College in Washington State as Leftists Roam Campus With Bats, Assault Trolling Chalker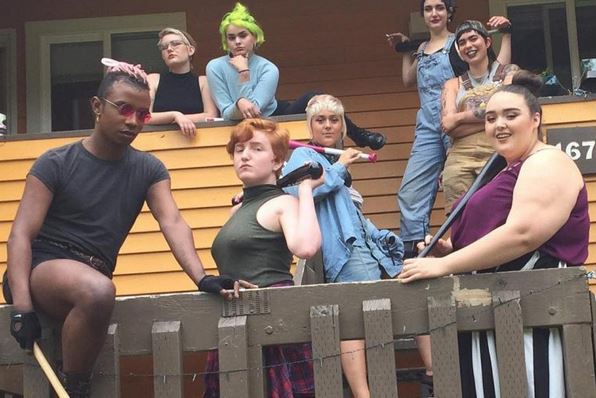 Evergreen State College in Olympia, Washington has faced closures, protests, and even vigilante "justice" in recent days in the wake of student demonstrators forcing a professor off campus due to his dissenting views on a race-based event at the school.
Professor Bret Weinstein had voiced his objection to the planned "Day of Absence" that would have asked whites to leave the school for a day. As a result, the student protesters branded the liberal academic a "racist," and demanded his firing. Weinstein had to hold his class in a nearby park, and the undergraduate activists held regular protests decrying "racism" at the institution.
A quarter of the faculty has actually sided with the anti-Weinstein students, and demanded that the administration "demonstrate accountability by pursuing a disciplinary investigation against Bret Weinstein." They claimed that their colleague "endangered faculty, staff, and students, making them targets of white supremacist backlash by promulgating misinformation in public emails, on national television, in news outlets, and on social media."
A Monday article from The Washington Post detailed the ongoing chaos at Evergeen. The newspaper noted how the local sheriff, John Snaza, zeroed in on one incident in particular from Sunday.
"They have had people walking around with sticks and baseball bats late at night causing property damage," Sheriff Snaza said.
According to a Monday report from The College Fix website, officials at Evergreen State sent an e-mail to students asking those carrying the bats and other blunt objects to cease the practice.
"The use of bats or similar instruments is not productive," the e-mail said. "Carrying bats is causing many to feel unsafe and intimidated. The bats must be put away immediately in order to protect all involved."
Professor Weinstein Tweeted a pic of the alleged vigilantes on Monday evening.
Credible reports protestors w/ bats roaming campus for 2 days. People hit, won't report. @heathereheying students & I warned @GovInslee 5/25 pic.twitter.com/soH4djQigc

— Bret Weinstein (@BretWeinstein) June 5, 2017
On Monday, the conservative website Heat Street spotlighted one student who was assaulted by the roving mob. "Nolan," a freshman at Evergreen, "started a polite, subversive, Limp Bizkit-themed resistance against the gaggle of protesters."
As a result, a group of far-left undergraduates cornered him, "poured water on him and ripped off his glasses," after he chalked over "graffiti calling for Weinstein's firing with the message, 'Limp Bizkit did nothing wrong'" (see video below).
Days later, as the freshman kept up mocking chalking campaign, a larger group — including some of the same individuals from the first assault, along with one of their bat-wielding friends — followed "Nolan" and a friend of his, who filmed the confrontation. They inaccurately claimed that it was "illegal" to film them, and tried to grab his video device.
The spring semester at Evergreen is set to end in two and a half weeks, so it will be interesting to see if the discord continues at the notoriously left-wing school.
[image via screengrab]
Have a tip we should know? [email protected]