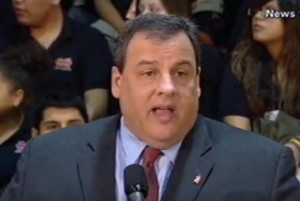 Speculation about a presidential run followed Chris Christie everywhere he went, leading up to the GOP primary race. And now that we have a presumptive nominee, that speculation has shifted to number two spot on the ticket. If offered, would he take it? Maybe. Mitt Romney's "a convincing guy," Christie said on Monday.
Speaking to a high school AP history class, Christie addressed the vice president question. Referring to Romney, he said, "He might be able to convince me. He's a convincing guy." Not too long ago, you may recall Christie said he's not looking to be vice president, emphasizing that he loves his job as governor of New Jersey. But, he's added that he would listen with an open mind if approached by Romney.
Christie also responded to Jimmy Kimmel's jokes about his weight, during the White House Correspondents' Dinner. Kimmel's jabs included, "Gov. Christie, I think you might be misunderstanding New Jersey's slogan. It's not the Olive Garden State." He also quipped, "You know they say that inside every American governor is a president struggling to get out. In Chris Christie's case it's the only one where you can still hear him screaming."
In a news conference, Christie said:
Luckily, for me, I had Sofia Vergara next to me to console me. And when you have her next to you to console you, let me tell you don't care what Jimmy Kimmel says…The fact of the matter is when you're overweight there are those who are going to make awful comments about you and people who are going to make jokes about you. And you gotta live with it.
He added, "What Jimmy Kimmel said to me is moderate compared to what people call me on Twitter daily."
(H/T ABC News)
Have a tip we should know? tips@mediaite.com