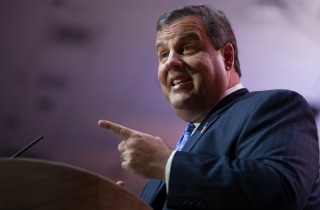 New Jersey Governor Chris Christie was called out for using taxpayer dollars to buy over $300,000 worth of "food, alcohol, and desserts" for unofficial purposes during his time in office, with nearly a third of that money used for purchasing concessions at NFL games.
New Jersey Watchdog combed through Christie's records and discovered that in the five years since he became governor, he charged the state government $360,000 in discretionary expenditures — and 80% of that money went to food. Now, it would be one thing if that money went towards official purposes, like hosting receptions and paying for dinners related to his work. But as they characterized it, Christie regularly uses his account to pay for an absurd amount of food.
Prominently, between the 2010 and 2012 NFL seasons, Christie charged $82,594 to a company that operates the concessions at MetLife Stadium, the home of the Giants and the Jets. The report indicates that his card was used 58 times, equaling a rough average of $1424 per purchase. And since the luxury boxes are free for New Jersey government officials, that means the potential presidential candidate likely spent all that money on food and booze.
The report also notes that Christie abruptly stopped using the government card at MetLife stadium in 2012, and the New Jersey Republican state committee reimbursed his previous MetLife expenses "to avoid a potential scandal that could embarrass their rising political star".
Maybe he just buys expensive foods, you might think. That's an awful use of taxpayer dollars! And it's really shady that he doesn't have receipts to back up his purchases! But that's it, right?
The governor used it to buy $102,495 worth of groceries and alcoholic beverages from retail stores. It's not clear from records whether the goods stocked the pantries and filled the refrigerators at Drumthwacket, the governor's official mansion in Princeton, or the Mendham house where Christie and his family live. The store addresses were not disclosed.

Christie did most of his serious food shopping at Wegmans Food Markets, where he spent $76,373 during 53 shopping runs. He patronized ShopRite supermarkets 51 times for $11,971 in purchases – plus another $6,536 in seven visits to ShopRite's liquor stores.

Those grocery bills dropped dramatically in early 2013, shortly after Barbara Walters asked on network television whether Christie was too overweight to be president.
Shortly afterwards, he underwent lap band surgery, losing 85 pounds and also saving a heap of money on groceries:
The governor bought $64,687 in groceries during the 38 months leading up to the surgery. That tab shrank to $31,236 for the 26 months after the operation.
A Christe spokesman called the report "slanted" and pointed us to a similar report from the Associated Press printed a few days earlier, in which Christie acknowledged that he'd used state funds to entertain politicians and interest groups at the MetLife private boxes, but said that the expense was "completely justifiable" according to state law. According to him, he personally decided to stop the practice, in order to avoid the appearance of impropriety.
"Quite frankly, in today's world where everything is kind of twisted and turned to look like it's something wrong when it isn't, I just said in 2012 to my folks, `Listen, let's just have the state party pay for this, so to the extent there's anybody there who's political, people can't make the argument that we're using taxpayer money for anything that even looks like politics,'" Christie said.
[This article has been updated for clarity and accuracy since its original posting.]
[h/t Deadspin]
[Image via Shutterstock]
—
>> Follow Tina Nguyen (@Tina_Nguyen) on Twitter
Have a tip we should know? tips@mediaite.com