Chris Christie Speaks Out on Leaked Trump Tape: 'I'm Really Upset About What I Heard, But…'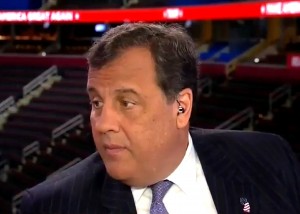 During the primary process for the Republican nomination, New Jersey Governor Chris Christie surprised a lot of people by coming out pretty early on in support of his longtime pal Donald Trump. Christie fell short of his own White House ambitions this year and dropped out of the race after the New Hampshire primary, and has been one of Trump's key advisors and surrogates ever since.
The Gov appeared on WFAN's Boomer and Carton radio program — hosted by radio jock Craig Carton and former NFL quarterback Boomer Esiason — and finally weighed in on the leaked 2005 audio that revealed his pal talking about groping women at his leisure. Christie said directly, "It is completely indefensible. I won't defend it," continuing to say "I do think [Donald Trump is] sorry," for his actions.
Although the New Jersey Governor admitted that Trump's apology could have been done better, Christie left no room for misinterpretation about his political allegiance.
"I'm still supporting Donald… I'm really upset about what I heard, but in the end this election is about bigger issues," Christie said, who revealed that he as in the room with Donald Trump when he found out about the leaked tape.
Audio from the Boomer and Carton hit is below via MSNBC.
Matt Arco, political reporter for The Star-Ledger in my home state of Jersey, also took to Twitter as the original interview was airing.
Christie react to Trump's video: "It is completely indefensible. I won't defend it."

— Matt Arco (@MatthewArco) October 11, 2016
"I do think he's sorry," Christie says, was there when Trump found out about video. But Christie says Trump's apology could have been better

— Matt Arco (@MatthewArco) October 11, 2016
"I'm still supporting Donald," Christie says. "I'm really upset about what I heard, but in the end this election is about bigger issues."

— Matt Arco (@MatthewArco) October 11, 2016
"I don't think it's immaterial," Christie says, but it's not the only thing Trump should be judged on.

— Matt Arco (@MatthewArco) October 11, 2016
"On the debate, I think he did much better than he did on the first one and I think she did worse," Christie says.

— Matt Arco (@MatthewArco) October 11, 2016
"Who knows," Christie says about if there are any other damning videos of Trump out there.

— Matt Arco (@MatthewArco) October 11, 2016
"The rank and file people do support him," Christie says. Can Trump still win? "Well, sure," gov responds. (Pretty tepid.)

— Matt Arco (@MatthewArco) October 11, 2016
Christie says, again says he was "made really uncomfortable w/ that video," but says it can't be the only thing Trump is judged on.

— Matt Arco (@MatthewArco) October 11, 2016
Have a tip we should know? tips@mediaite.com