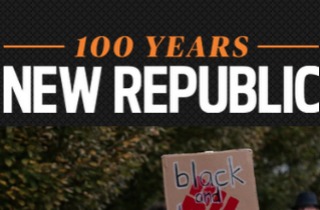 Chris Hughes, the Facebook sub-mogul who was hailed the New Republic's savior when he bought the ailing magazine two years ago, gutted it last week. The ouster of beloved editor Franklin Foer was greeted by a mass staff exodus representing most of the long-running liberal publication's major names and a sizable chunk of journalistic talent.
On Sunday Hughes took to the pages of another recent technocratic acquisition, the Washington Post, to defend his proposed overhaul of the magazine, dropping "buzzy techwords" like innovation along the way. (For an extra dose of either awareness or its opposite, Hughes constructed a categorical defense of "buzzy techwords.") For Hughes, the choice at TNR is change or die.
"I didn't buy the New Republic to be the conservator of a small print magazine whose long-term influence and survival were at risk," he wrote. "I came to protect the future of the New Republic by creating a sustainable business so that our journalism, values and voice — the things that make us singular — could survive."
He also did not wish the departing staff farewell. "The New Republic is too important an institution to accept their departures as its end," he wrote. "Despite what has been suggested, the vast majority of our staff remain. They are eager and excited to build a sustainable and strong New Republic that can endure."
FWIW:
Here's how one TNR staffer reacted to Chris Hughes's op-ed tonight… pic.twitter.com/5hVcV3Hu0n

— Ryan Lizza (@RyanLizza) December 8, 2014
"If you really care about an institution and want to make it strong for the ages, you don't walk out," Hughes concluded. "You roll up your sleeves, you redouble your commitment to those ideals in a changing world, and you fight. This 100-year-old story is worth fighting for."
Given the recent issue was canceled due to lack of staff, it sounds as though Hughes needs a few more sleeves to do the rolling.
[Image via screengrab]
——
>> Follow Evan McMurry (@evanmcmurry) on Twitter
Have a tip we should know? tips@mediaite.com