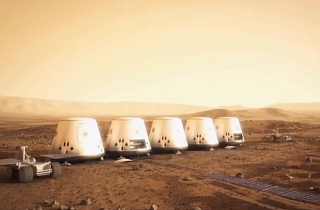 In the past, various Islamic authorities have issued fatwās against things like Mickey Mouse, breastfeeding, emoticons, and nudity. Some clerics have added another one to that list: Living on Mars.
A group in the United Arab Emirates, called the General Authority of Islamic Affairs and Endowment, have reportedly issued the fatwā forbidding Muslims from taking a one-way trip to the Red Planet.

The ruling comes after Dutch space exploration company Mars One began soliciting volunteers to fly to and live on Mars, beginning in 2023. The goal is to establish a permanent human colony on the planet roughly 140 million miles away. According to the Khaleej Times, "Thousands of volunteers, including some 500 Saudis and other Arabs, have reportedly applied for the mission which costs $6 billion."
That fact alone led the committee to forbid the travel: "Such a one-way journey poses a real risk to life, and that can never be justified in Islam," they said. "There is a possibility that an individual who travels to planet Mars may not be able to remain alive there, and is more vulnerable to death."
Such a "hazardous" trip, the committee said, is akin to suicide. "Protecting life against all possible dangers and keeping it safe is an issue agreed upon by all religions and is clearly stipulated in verse 4/29 of the Holy Quran: Do not kill yourselves or one another. Indeed, Allah is to you ever Merciful," they wrote.
Since travelers are likely to die for no "righteous reason", they warned Muslim volunteers would face "punishment similar to that of suicide in the Hereafter."
[h/t TPM]
[Image via Mars One]
— —
>> Follow Andrew Kirell (@AndrewKirell) on Twitter
Have a tip we should know? tips@mediaite.com