Cleveland Kidnapping Victims Release Thank You Video: 'Through Hell And Back With My Head Held High'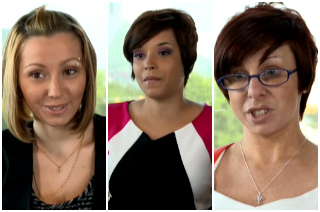 The three women recently freed from captivity in a home in Cleveland released a YouTube video on Tuesday morning, thanking their supporters and affirming the renewal of their normal lives.
Amanda Berry, Gina DeJesus, and Michelle Knight appeared separately in the video, with Berry and Knight reading from prepared statements and DeJesus answering questions from an off-screen interviewer.
"It has been a blessing to have such an outpouring of love and kindness," Berry said, seeming quite composed. "I'm getting stronger each day. Having my privacy has helped immensely. I ask that everyone continue to respect our privacy and give us time to have a normal life."
DeJesus, accompanied by her father Felix and mother Nancy, thanked those who contributed to the Courage Fund, a fund for the women created by Cleveland city council members that has raised over $1 million.
"I would like to thank the Courage Fund, everybody in general," said Nancy Ruiz. "And I'm also saying my community, my neighbors. Every single one, they know who they are. I'm talking not just people, but parents in general that have a loved one missing. Please do me one big favor: count on your neighbors. Don't be afraid to ask for help, because help is available."
Knight spoke last, reading from a resilient statement.
"I may have been through hell and back, but I am strong enough to walk through hell with a smile on my face, my head held high, and my feet firmly on the ground," Knight said. "I will not let the situation define who I am…God has a plan for all of us. The plan that he gave me was to help others that have been in the same situations I have been in."
James Wooley, an attorney for Berry and Knight, stressed that the video's release was not indicative of future media appearances.
"It is important for everyone, especially the media, to understand that the three women still have a strong desire for privacy," Wooley said. "They do not want to talk about their ordeal with the media or anyone else. This cannot be stated strongly enough."
Ariel Castro, the alleged kidnapper, is being held on 329 counts of kidnapping and rape.
Watch the video below:
[h/t ABC News]
—
>> Follow Evan McMurry (@evanmcmurry) on Twitter
Have a tip we should know? tips@mediaite.com