Obama Considers Full Troop Withdrawal From Afghanistan: 'Worst Case Scenario' Has Become Best Option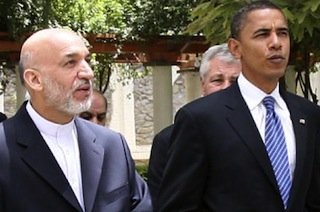 The New York Times reported Tuesday morning that President Barack Obama is considering a "zero option" for troop withdrawal from Afghanistan that would see the U.S. military completely leave the country midway through 2014.
Troops levels were expected to decrease by about 50% in early 2014. Administration officials now say all troops could be withdrawn by the summer of 2014, barring any unforeseen escalation in violence.
The move comes amidst growing consternation with Afghan President Hamid Karzai, who has maintained a troubled relationship at best with the United States during the more than decade-long war in his country. Known for his mercurial changes of moods, Karzai bucked the United States over the reinstatement of peace talks with the Taliban last month, scuttling negotiations over a long term security deal that would underpin U.S. presence in Afghanistan through 2014. The talks were already imperiled by Karzai's insistence that the U.S. guarantee Afghan security against Taliban forces in Pakistan at a time when the U.S. was hoping to draw down its covert operations in the neighboring country.
Aides say a video conference between the two leaders took a turn for the worse when Karzai accused Obama of colluding with the Taliban against his government. The Times reports that following this discussion the "zero option"—which had been considered a "worst case scenario" used to maintain leverage over Karzai—suddenly became a viable strategy.
Full troop withdrawal would undoubtedly convince other countries with a military presence to recall their troops as well, and significantly decrease the amount of U.S. aid sent to Afghanistan, which accounts for over half the country's spending.
Read the full article HERE.
[h/t New York Times]
—
>> Follow Evan McMurry (@evanmcmurry) on Twitter
Have a tip we should know? tips@mediaite.com