Clinton Rally Speaker Escorted Off Stage After Using Speech To Criticize Hillary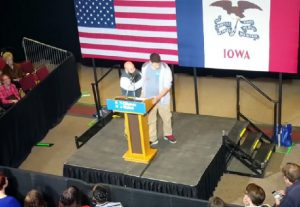 During a rally for Democratic presidential nominee Hillary Clinton on Saturday, a college student who was given a speaking slot was quickly escorted off stage after he used his speech to criticize the candidate.
Bernie Sanders, Clinton's Democratic primary opponent, has been campaigning for Hillary in Iowa this weekend, making stops at all of the state's public universities. Polls show Donald Trump leading in the state, but by a close enough margin that Clinton still has a reasonable shot at it.
At a rally in Ames at Iowa State University, Bernie stumped for the Democratic candidate, making the case that she will help reduce student debt. He also told those gathered that this isn't a popularity contest and that we aren't voting for student president, acknowledging that many college students and millennials aren't the biggest fans of Clinton.
Bernie likely made sure to hammer this point home yesterday due to the actions of warm-up speaker Kaleb Vanfosson, president of the university's Young Democratic Socialists.
The college sophomore began his speech by ridiculing Trump, calling him a "part-time reality TV star and full-time bigot." However, he quickly segued into a condemnation of Clinton and how awful she is.
Vanfosson complained that the only people that can trust Clinton are Goldman Sachs, billionaires, the military industrial complex and the rest of the elites. "She has completely lost grip of what it's like to be an average person," the college student explained.
Shortly after he began railing against Hillary, a campaign staffer came on stage, informed him he was done and escorted him off to a smattering of applause.
Watch the video above.
[image via screengrab]
–
Follow Justin Baragona on Twitter: @justinbaragona
Have a tip we should know? tips@mediaite.com