CNN Doesn't Deny Reality Show Judge Piers Morgan Is Replacing Larry King (Update)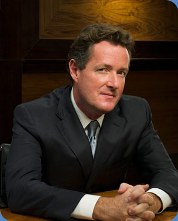 Could Piers Morgan, judge on America's Got Talent and Britain's Got Talent and winner of Celebrity Apprentice Season 1, really be slated to replace Larry King on CNN?
That's the news out of several U.K. papers over the weekend. And CNN is not denying it.
You may be wondering – WHAT?! We've heard a lot of rumors about new faces at CNN, which is looking for a new 8pmET show since Campbell Brown announced she would be leaving the network. There are the Eliot Spitzer rumblings, which have grown recently. (And with it, the stories downplaying the move.)
But Piers Morgan? Where did that come from? Papers like The Sun of London seem convinced it's happening. And here's what CNN has said:
A spokesperson for Larry King Live tells Mediaite, "We aren't commenting on the Piers Morgan speculation but we are talking to many people about the 8pm hour."
As for Larry King specifically, a different CNN spokesperson tells Mediaite, "King has been part of CNN's past and will be part of CNN's future."
Part of the past, sure. Part of the future – fine. But that doesn't address the possibility that CNN is nearing the point where they replace King with someone, and it looks like it's Piers Morgan…as surprising as that sounds. But taken together, the quotes could tell us a few things: maybe CNN switches up their line-up at both 8 and 9pmET, with Morgan at 8pmET instead. Or if King remains with the network in another role, it could open up the prime time schedule for Spitzer and someone else at 8pmET in a Crossfire-type show and Morgan at 9pmET.
> Update: More from a CNN spokesperson to Mediaite: "Not surprisingly, there is no shortage of people who would love to succeed Larry King if and when he moves on, but rumors that we are close to signing a deal for a Larry King replacement are untrue. We are currently looking at replacing our 8pm program and that is our priority. Larry is a beloved member of the team, and he will continue to be part of the CNN family into the future."
We'll know soon, and update as we hear more. Side note: Piers Morgan was CNN's "Connector Of The Day" last Thursday! Watch what that means:


—–
» Follow Steve Krakauer on Twitter
Have a tip we should know? tips@mediaite.com