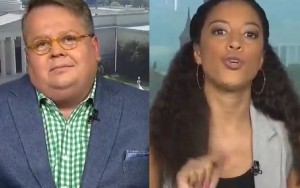 In a fiery exchange Wednesday afternoon, CNN commentator Angela Rye rebuffed Trump supporter Barry Bennett's attempts to deflect attention away from his candidate's history of race-baiting and trutherism.
Bennett said that it was "silly" to keep bringing up Trump's past insistence that President Obama was not born in the U.S., was not a citizen, and possibly did not graduate from Harvard Law, because "obviously it wasn't true" and "it would probably be a mistake to keep talking about it."
Bennett said the issue was not worth discussing, though Trump has never recanted any of these assertions, and has continued throughout the campaign to hint ominously that "something is going on" with the president, without elaboration.
Rye insisted that Trump's history of race-baiting and birtherism was, in fact, extremely salient and that, rather than letting them be swept under the rug, Trump campaign representatives — such as Bennett — should be called to account for the candidate's past actions.
Trump, she said, still had a "lot of work to do" to "demonstrate to people that he's not a bigot, that he's not a racist, and that he's not using racist rhetoric to pander to his very angry base."
"You don't have to prove that you're not a racist," Bennett said. "You have to prove that you are a racist. In this country we're innocent until proven guilty"
"Unless you're on the Trump campaign," Rye said. She continued, "Barry, let me prove to you that he demonstrated that he is either racist and/or using racist rhetoric."
She invoked not only Trump's birtherism, but his encouraging violence toward Black Lives Matter protesters at his rallies and his taking out a full-page ad in the Daily News calling for the execution of five innocent Black and Latino teens falsely convicted of rape. The convictions were vacated in 2002, but Trump did not recant: When New York City eventually settled with the so-called "Central Park Five" for $40 million, Trump fiercely criticized the decision.
You can view the exchange above, via CNN.
—
[image via screengrab]
Sam Reisman (@thericeman) is a staff editor at Mediaite.
Have a tip we should know? tips@mediaite.com