CNN Poll: Support For New Gun Laws Slips, More Americans Agree With NRA's Proposals Than Do Not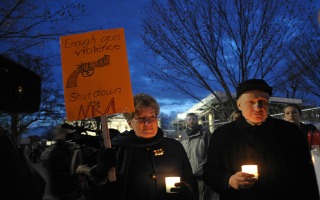 A new CNN poll released on Wednesday shows that public support for new gun control measures is slipping across the board from the highs in the immediate wake of the attack in Newtown, Connecticut. Further, the poll found that the public was more receptive to the NRA-backed proposal of putting armed guards in schools to prevent gun violence. More people surveyed think that this measure would reduce gun crime in schools than any new gun laws.

RELATED: Obama's Approval Ratings Mirror American Support For Gun Control, According To New Poll
While 55 percent of respondents still favor new gun laws, compared to 43 percent who oppose them, support for individual gun control measures is slipping dramatically.
A CNN poll taken in the immediate aftermath following the attack on Sandy Hook showed that 62 percent favored a ban on semi-automatic assault rifles "like the AK-47." Today, that number has dropped to 56 percent. Still a strong majority, but a notable decrease in support for a ban on semi-automatic rifles from one month ago.
The same is true for a ban on high-capacity ammunition clips – 62% in December, down to 58% now – as well as a requirement for all gun owners to register their firearms with the local government – 78% last month, down to 69% now.
While Americans still favor new gun control measures in the wake of the massacre at Sandy Hook Elementary, they are skeptical that any new law will reduce gun violence. 61 percent of respondents say that new gun control laws will not reduce violence in the United States, while only 39 percent say that new measures will curb gun violence.
Furthermore, the public is largely supportive of an NRA-backed proposal to place armed guards in every American school. 54 percent favor such a measure with 45 percent opposed. Furthermore, 47 percent to 40 percent say that armed guards would reduce gun crime in schools more than would new gun control laws.
"The does not mean that Americans agree with every position the NRA takes on gun control – polls have repeatedly and consistently shown high support for proposals the NRA opposes – but the poll does indicate that the NRA's overall approach resonates with many Americans," says CNN Polling Director Keating Holland.
The CNN/Time Magazine/ORC International poll of 814 adults, was conducted between January 14-15 and has a margin of error of plus or minus 3.5 percent.
> >Follow Noah Rothman (@Noah_C_Rothman) on Twitter
Have a tip we should know? tips@mediaite.com