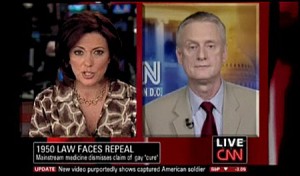 CNN's Kyra Phillips has done an on-air apology for having an ex-gay activist on her show without a countering expert, but said she was hurt by the "hateful messages" she received from viewers who were upset about the show.
Phillips has been under fire since Tuesday when she had a segment on a California law that requires research into curing homosexuality.  Her main guest was Richard Cohen, a therapist who says gays can be cured.  The segment created a huge uproar, especially in the LGBT blogosphere, because Cohen went largely unchallenged and no mention was made that Cohen has been expelled by the American Counseling Association for unethical behavior.
Since the segment, CNN and Phillips became the subject of a Gays & Lesbian Alliance Against Defamation "call to action" and Phillips says she's received an avalanche of  "vicious emails" over the interview.
"I wish all of you knew my heart," Phillips said at the end of her interview with the American Psychological Association's Clinton Anderson, adding that she has a long track record of responsible reporting on gay and lesbian issues.  She said she had " unswerving support for all communities in the battle for human rights, including gay, lesbian, and transgender individuals.
Responding to the controversy, she acknowledged that Cohen was not "the most appropriate guest" but was taken aback by the ugly response from those who didn't like the segment.
"If we cannot treat each other in a civil manner, even when we disagree, we will never move forward and have a world where all people are treated with the respect they deserve," Phillips concluded.
Have a tip we should know? tips@mediaite.com