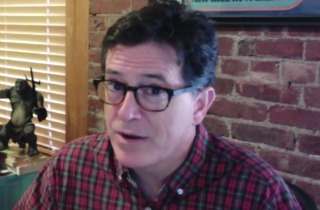 Stephen Colbert dropped character this week to participate in an "Ask a Grown Man" Q&A this week for Rookie, an online magazine for teenage girls, dispensing fatherly advice on a wide variety of issues, including how young boys are raised in contemporary society to treat girls.
In fact, the first question Colbert took was from a girl who asked whether teenage boys understand that catcalls and rape jokes are just harmful and don't endear them to most young women. Colbert said, "I don't think they know that it's harmful because I don't think they mean to be harmful. I just think they desperately want you to pay attention to them."
As for whether society as a whole influences young men's actions, Colbert said, "Does our society educate boys to be misogynistic? It probably doesn't value girls and women as much as it should. And boys probably see that as a signal that they can get away with things like devaluing women."
Colbert also dispensed advice to girls with questions about dealing with their families, how you know if someone loves you, and how to deal with boys who treat you nicely half the time but lie to you the other half of the time.
He addressed that question with some serious talk about love-hate relationships and ended with a finger snap.
Watch the video below:
Ask a Grown Man: Stephen Colbert from Rookie on Vimeo.
[h/t WaPo]
[image via screengrab]
— —
Follow Josh Feldman on Twitter: @feldmaniac
Have a tip we should know? tips@mediaite.com
Josh Feldman - Senior Editor