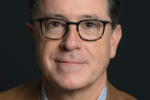 Stephen Tyrone Colbert is a television host, comedian, and political commentator. He is currently the host of The Late Show with Stephen Colbert on CBS. He previously hosted The Colbert Report on Comedy Central, a satirical show where he portrayed a conservative political pundit from 2005 to 2014. He succeeded David Letterman in 2015. Colbert has won nine Emmys, two Grammys, and two Peabody awards.
Stephen Colbert Q&A
Where did Colbert go to school?
He started at Hampden-Sydney College of Virginia, but became interested in acting and transferred to Northwestern University.
How old is Stephen Colbert?
Born on May 13, 1964, Colbert is 55.
Who is Stephen Colbert married to?
Colbert is married to Evelyn McGee.
Stephen Colbert Noteworthy Stories
July 25, 2019
Stephen Colbert and Chris Wallace debate and disagree on the Mueller hearing.
September 24, 2010
Stephen Colbert testifies in his 'Colbert Report' character in front of the House Judiciary Committee's Subcommittee on Immigration, Citizenship, Refugees, Border Security, and International Law.
Latest Stephen Colbert Stories