Comic Compares Amy Schumer's Alleged Joke-Stealing to Bill Cosby's Alleged Rapes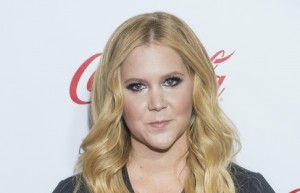 Hot on the heels of her teen-shaming episode this week, standup comic and television and film star Amy Schumer is now the one being shamed on the internet. This time, it's her fellow comedians, not a teen blogger, who are going up against Amy for allegedly stealing their jokes, not their virginity during a selfie. In a flurry of since-deleted tweets this week, standup veterans Wendy Liebman, Kathleen Madigan, and Tammy Pescatelli took turns hammering Schumer, with Pescatelli even tweeting that "So many more but nobody listens…at least Cosby knocked his victims out b4 he raped them."
The Interobang has the rundown:
"What has always been amazing to me is that she purports to be a feminist and yet only steals from other female comedians. If we call her on it we are "jealous" or career shamed. Be successful. WE want you to do well, just do it with your own material. BTW she blocked me." Pescatelli posted a joke she made on her 2006 Comedy Central Half Hour and a sketch that she alleges rips off her joke and alleges that there are many more instances. "So many more but nobody listens…at least Cosby knocked his victims out b4 he raped them," she tweeted. Pescatelli claims she has no beef, just what she calls oppression and degradation. Her last tweet says "I too have a dream #MLKDay." The women allege Schumer used stolen material in her stand up act, her movie Trainwreck, and her critically acclaimed sketch show, Inside Amy Schumer.
Madigan promised a compilation of the pilfered bit, and then this video was posted anonymously to Vimeo providing five examples of Amy Schumer's alleged thievery. The material is definitely NSFW:
Amy Schumer is a Joke Thief from joe schmo on Vimeo.
There are a few things to keep in mind here, the first being that similarity doesn't necessarily denote thievery. Schumer could have thought of these premises on her own, or been influenced by seeing these jokes without realizing it, or even have heard them from someone else who stole them. From the examples given, I'd say in every case, Schumer at least improved on the alleged source material, and in some cases completely altered it. That Patrice O'Neal bit about having your buddy rape your girlfriend is a good example.
But as a former struggling comic, I can also understand how it feels to watch someone making fat stacks using material that you think is yours. There are competing schools of thought about joke-stealing in comedy because this comes up from time to time. Some comics feel like it's all in the game, others have a violent aversion to it, like Joe Rogan, who famously confronted Carlos Mencia onstage for doing other comics' material word-for-word.
If someone is lifting a good chunk of their act from other comics, that's messed up, and you would think that would catch up with them, but this appears to be insufficient evidence to convict Schumer. In each of these handful of examples, she made significant alterations to the form and content of the material. If she knowingly lifted these premises, then yeah, it would be nice if she credited her influences, instead of blocking them. In fact, since their material lines up so well, maybe Amy could use some new writers for her sketch show.
Then again, it's no fun being compared to Bill Cosby, not anymore.
This is an opinion piece. The views expressed in this article are those of just the author.