Conservative Online Media's 'Coverage' of Giuliani's Face-Plant Interview Downplays His Stormy Comments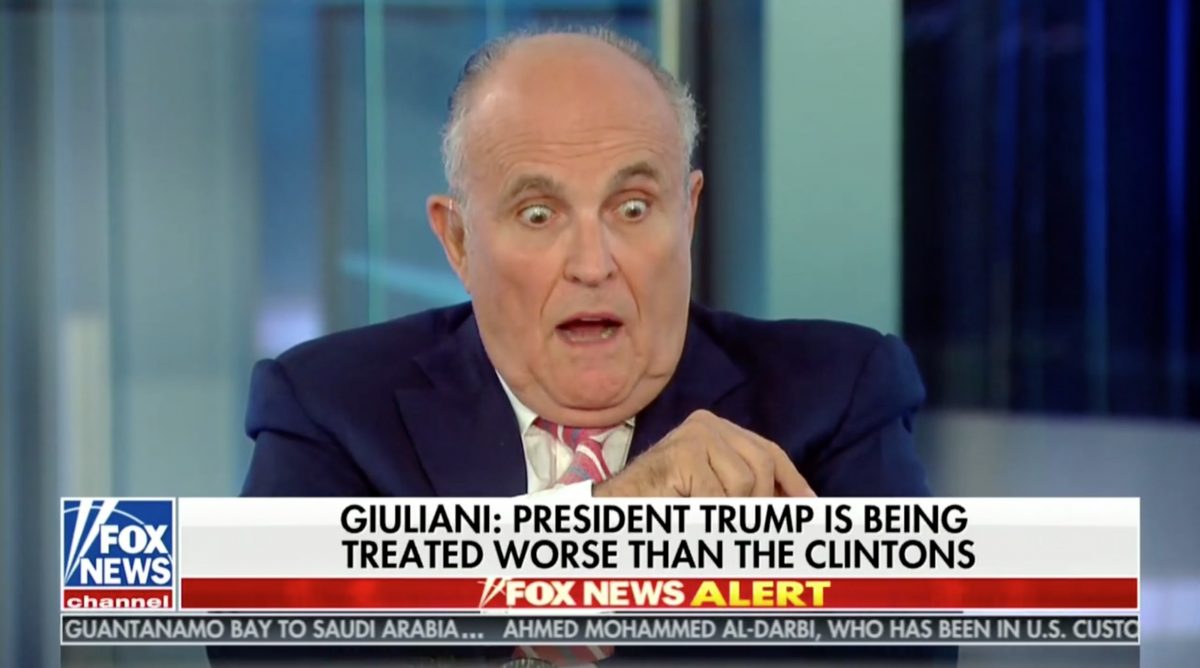 Rudy Giuliani, the former New York City Mayor and lawyer for President Donald Trump, made waves when he told Fox News' Sean Hannity Wednesday during an explosive one hour interview that Trump repaid his longtime attorney Michael Cohen $130,000 in alleged hush money to porn star Stormy Daniels just days before the November 2016 election.
Giuliani's shocking admission ran counter to what Trump stated aboard Air Force One less than one month ago, which is that "no," he did not know about Cohen's payment to Daniels, who alleges she had sex with the president just one month after Trump's wife, Melania Trump, gave birth to the couple's now 10-year-old son Barron Trump.
Giuliani's statement quickly became a political headache for the White House. That much was clear from the media's wall-to-wall coverage of the comment from Wednesday night through Thursday. Coverage, I might add, that was rightly warranted. Then, on Friday, Trump launched yet another grenade into the ever-changing narrative.
The president told reporters just before boarding Air Force One that while Giuliani is a "great guy," he "just started" and didn't have his "facts straight." The latest comments from the president were the culmination of a whirlwind week in Washington, which, even by Trump standards, was one for the history books.
Some online conservative media outlets, however, whose journalistic duty is to write the first rough draft of history, seemed to struggle to report the facts. While mainstream outlets, which the Trump administration often criticizes for "fake news," reported Giuliani's statement on its face (let's be honest, a devastating admission like Giuliani's is more damning for Trump than any amount of editorializing), the conservative online media's downplaying of Giuliani's statement was embarrassingly obvious, especially when it came to Giuliani's bombshell comments Wednesday on Hannity.
Multiple online conservative media outlets — FoxNews.com, Conservative Review, PJ Media, LifeZette, Daily Caller, and Townhall — downplayed stories on their homepages that related to Giuliani's comments on the president's repayment to Cohen.
"Trump attorney tells Fox News [James] Comey must be prosecuted, Mueller probe must end," the top headline on FoxNews.com, whose own cable channel aired the exclusive Giuliani interview, read Wednesday night. FoxNews.com flashed another provocative (and much less newsworthy) headline in which Giuliani called Trump's former rival Hillary Clinton a "criminal" and fired FBI Director James Comey a "liar" who ran a "garbage investigation."
Another headline on the FoxNews.com homepage vaguely referenced Giuliani's comments about Trump's alleged repayment to Cohen. "Giuliani on possibility of Trump campaign finance violation," one link read. A third story on Giuliani's interview mentioned Trump's $130,000 repayment to Cohen, which the headline noted was for "expenses." However, the headline itself did not present to readers the obvious discrepancy between what Trump said just one month earlier and what Giuliani stated Thursday.
Conservative Review, which announced Wednesday the addition of former Fox News host Eric Bolling to its TV lineup, apparently didn't think Giuliani's bombshell was worth prominent, front-page treatment, either. Hours before the Hannity interview, however, the outlet's social media feeds did focus on defending the president over his firing of Comey, after reports that Trump could fire Deputy Attorney General Rod Rosenstein.
PJ Media ran with the "Comey is a liar" and "Hillary is a criminal" narrative on its homepage, much more so than the blatantly obvious contradiction between what the president said less than one month ago and what Giuliani revealed Wednesday. The publication made passing reference to Giuliani's comments on the $130,000 Cohen repayment at the bottom of that article.
LifeZette offered some head-dizzying spin to Giuliani's comment. The website ran an article quoting Giuliani as saying on Fox and Friends the morning after his Hannity interview that Trump was "unaware" of the $130,000 payment to Daniels. LifeZette also ran a headline that quoted Giuliani as saying "during the Hannity interview, "all crimes [were] committed by the government." (Laura Ingraham, who founded LifeZette, did address Giuliani's comments on her Fox News show, The Ingraham Angle.)
"There's been too much government misconduct. The crimes now have all been committed by the government," the article quoted Giuliani as saying. Of course, the post did not mention the possibility that some of the "government misconduct" could include Federal Election Commission violations by Trump.
The Daily Caller also downplayed the Giuliani news. The website that was founded by Fox News' Tucker Carlson did cover Giuliani's comments as they related to the Cohen repayment but placed other angles from the same interview more prominently on its homepage. The author of another story, Peter Hasson, mentioned at the very end of his story Giuliani's admission that Trump reimbursed Cohen for $130,000.
Townhall, whose parent company Salem Media just days ago laid off several independent contractors and full-time employees who were "insufficiently partisan," according to one laid-off RedState writer, also downplayed Giuliani's damning admission about Trump repaying Cohen $130,000 in hush money.
The website ran a wire story from the Associated Press that was not prominently placed on its homepage. Further, the media outlet's Twitter and Facebook feeds showed little trace of Giuliani's interview. Clearly, Salem Media is not in the tank for Trump, right? Give me a break.
It seems that much of conservative media only want "unbiased" news coverage if it's bad news about Democrats. But as any reasonable and intellectually honest person understands, being "unbiased" is not a one-way street. It requires media outlets to be equally and prominently critical of both Republicans and Democrats, despite the hypocritical dictations from their corporate overlords.
Correction: A previous version of this piece stated that a number of conservative outlets failed to address Giuliani's remarks. The piece has been updated to note that some of those outlets did, in fact, mention the news. The post has also been updated to detail the degree to which these outlets promoted their reports on Giuliani.
[image via screengrab]
>>>Follow Jon Street (@JonStreet) on Twitter
This is an opinion piece. The views expressed in this article are those of just the author.