Conservatives Go After Huffington Post For Blogger's Sexually Violent Tweet To Dana Loesch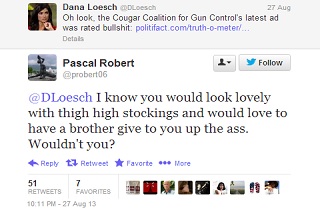 A blogger named Pascal Robert, who describes himself as a "Huffington Post contributor," sent a sexually violent tweet to conservative radio host Dana Loesch on Tuesday night, suggesting that the married mother of  two would enjoy a particular sexual act, performed by a man other than her husband. Katie Pavlich of the conservative Townhall website has rightly denounced the tweet, but has also proffered it as evidence that you can "Leave it to a progressive male to publicly promote the rape of conservative radio host,  activist, wife and mother Dana Loesch."
Pascal Robert (the "t" is silent, like "Colbert"), also a blogger for Black Agenda Report, attacked Loesch on Tuesday in response to her tweet about a Politifact ruling on a gun control ad: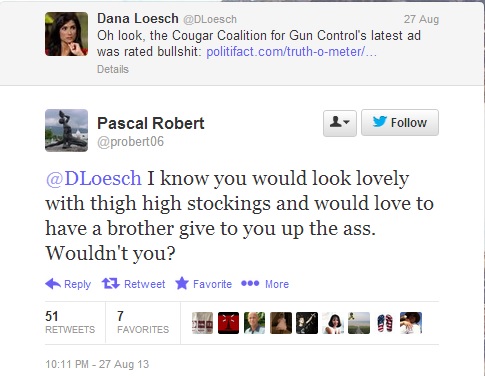 Dana Loesch: Oh look, the Cougar Coalition for Gun Control's latest ad was rated bullshit: http://www.politifact.com/truth-o-meter/article/2013/aug/27/has-little-red-riding-hood-been-banned-not-assault/ …

Pascal Robert: @DLoesch I know you would look lovely with thigh high stockings and would love to have a brother give to you up the ass. Wouldn't you?
Robert's tweet was undeniably threatening, sexually hostile, and indicative of the rape culture mindset. It's also part of a pattern of sexually hostile and otherwise inflammatory tweets that, according to The Huffington Post, caused them to stop publishing his unpaid contributions in July. Amanda Schumacher, a spokesperson for The Huffington Post, had this to say about Pascal Robert (via email to Mediaite):
Pascal Robert has contributed blogs to The Huffington Post. He has never been on staff and is not a paid contributor. We stopped publishing his posts in July after inappropriate comments surfaced.
Loesch retweeted Robert's tweet, and characterized it as a threat of rape, and an incitement to rape, and drew a link to progressive politics and such threats:
Look at this HuffPo contributor talk about having me raped –>twitter.com/probert06/status/372541956460519425 …

Ask me why I carry again. Because progressive men threaten to rape me on Twitter over political disagreements.
Townhall's Katie Pavlich used a broader brush than that:
Leave it to a progressive male to publicly promote the rape of conservative radio host,  activist, wife and mother Dana Loesch.

Late last night, in response to a tweet from Loesch about gun control, Huffington Post contributor Pascal Robert told her she should be raped and described a sick sexual fantasy.
Now, I don't begrudge Loesch, or anyone else, their offense at the tweet, or even an interpretation of it as an implicit threat or incitement. As clear as these implications are, however, the descriptions employed by Loesch and Pavlich are not accurate. This is not a defense of Pascal Robert, any more than pointing out the difference between rape and attempted rape is a defense of attempted rapists. It's just a fact. They should have included something like "thinly-veiled" or "strongly implicit" in their descriptions in order to make them accurate. Maybe the idea is to draw a defense of Robert, but there is none to be made. The tweet itself was an assault.
As for the political point that Pavlich and Loesch attempt to score here, that is theirs to defend.
Have a tip we should know? tips@mediaite.com