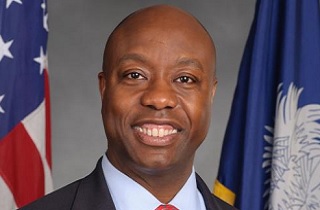 One of the controversies surrounding the 50th anniversary celebration of the March on Washington and Dr. Martin Luther King's "I Have A Dream" speech has been the absence of Republicans at the event, despite many of them having been invited. One prominent Republican, Senator Tim Scott (R-SC), told Roll Call through a spokesperson that he had not been invited, but the paper reported, Thursday afternoon, that an email confirms that Sen. Scott's office declined an invitation to the event earlier this month.
On Wednesday, Roll Call reported on the status of invitations to Republican leaders like Speaker John Boehner and Majority Leader Eric Cantor, but had this to report about Sen. Tim Scott:
While Cantor and Boehner were among the Republicans who were invited, Sen. Tim Scott, R-S.C., the only African-American in the Senate, was not invited, his office told CQ Roll Call.
A snub of Sen. Scott would seem particularly egregious, given his status as the only African American currently serving in the U.S. Senate. As it turns out, though, Scott wasn't snubbed. Roll Call reports today:
The Senate's only black lawmaker wasn't invited to speak at Wednesday's 50th anniversary March on Washington, because Tim Scott's office declined an invitation to attend the ceremony as a spectator, according to a source connected to the event.

"Much of the speaking program was created based on those who were able to confirm availability to attend the event, and thus were able to speak at the event," the source explained.

And based on an email exchange obtained by CQ Roll Call, the South Carolina Republican did receive an invitation to attend the festivities commemorating Martin Luther King Jr.'s delivery of the famous "I Have a Dream" speech.

The invitation, sent Aug. 8 from the Coalition for the 50th Anniversary of the March on Washington, appears to have been a form letter to all members of Congress, with invitees listed as "Representative" rather than by name.

Within a day, Rachel Shelbourne, a staff assistant to Scott, had replied to the email with the following message:

"Thank you for extending to Senator Tim Scott the invitation to the 50th Anniversary of the March on Washington on August 28th. Unfortunately, the Senator will be in South Carolina during this time, so he will be unable to attend the event. Please do, however, keep him in mind for future events you may be hosting."
[photo via U.S. Senate]
Have a tip we should know? tips@mediaite.com