Controversial Report Suggests U.S. Preparing 'Preemptive Strike' Against North Korea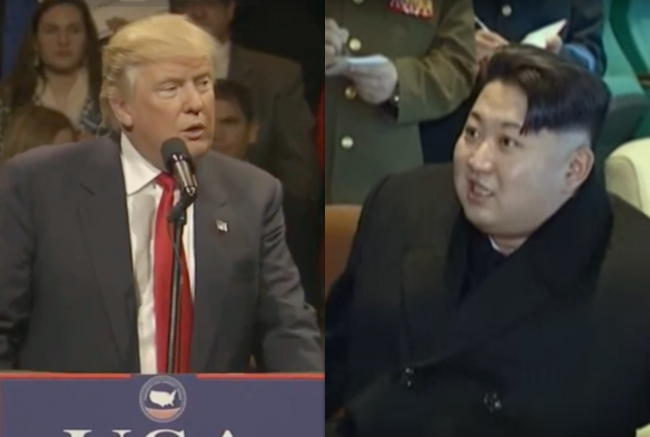 Is the United States preparing a preemptive strike against North Korea?
The answer to that question is yes, according to an explosive new report from NBC, which alleges that the Trump administration would be prepared to hit the reclusive Communist nation if "officials become convinced" they are preparing to test another nuclear weapon. If true, the report shows a dramatic escalation in U.S. policy thinking on the issue.
North Korea has conducted five nuclear tests since 2006 and has been promising an unspecified "big event" will take place in the coming days.
Per NBC:
(I)ntelligence officials told NBC News that the U.S. has positioned two destroyers capable of shooting Tomahawk cruise missiles in the region, one just 300 miles from the North Korean nuclear test site. American heavy bombers are also positioned in Guam to attack North Korea should it be necessary, and earlier this week, the Pentagon announced that the USS Carl Vinson aircraft carrier strike group was being diverted to the area. The U.S. strike could include missiles and bombs, cyber and special operations on the ground.
Now before we all start building bomb shelters, the NBC report immediately drew controversy almost from the moment it was published.
Multiple sr defense officials say this report is "wildly wrong" "crazy." Pentagon pushing back on NBC report, call it "extremely dangerous." https://t.co/BLnoPHnhj9

— Jennifer Griffin (@JenGriffinFNC) April 13, 2017
Administration official calling NBC report re possible preemptive strike totally wrong https://t.co/unzqiJgGwp

— Justin Sink (@justinsink) April 13, 2017
Others, however, said the report actually wasn't that far off, but suggested any strike would only come after a nuclear device was tested.
My sources say a pre-emptive strike is NOT planned, contrary to what @NBCNews reporting, but retaliation likely if missile/nuke device test. https://t.co/ec4BaMC2Sa

— Steve Herman (@W7VOA) April 13, 2017
For their part, North Korea appeared undeterred by the threatened U.S. action.
"We will go to war — if they choose," Vice Minister Han Song Ryol told the Associated Press in an interview. "If the U.S. comes with reckless military maneuvers, then we will confront it with the [North Korea's] pre-emptive strike."
[image via screengrab]
Have a tip we should know? tips@mediaite.com