Conway Stalls Out After Getting Hammered Four Times About Trump's Voter Fraud Claims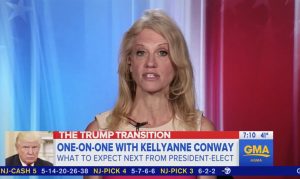 George Stephanopoulos of Good Morning America grabbed one key question by the tail in his morning interview with senior Trump aide Kellyanne Conway and refused to let it go, sending the usually unflappable Conway into a debate ditch.
Conway, who served as the third campaign manager for Donald Trump and is the first woman in American history to successfully run a presidential campaign, appeared on GMA to make the case for her team's transition efforts. At one point of the hit, Stephanopoulos brought up the oft-cited Tweet by Trump that alleged, "I won the popular vote if you deduct the millions of people who voted illegally."
"That claim is groundless," said Stephanopoulos. "Isn't it irresponsible for the President-elect to make false statements like that?"
Conway deflected, instead offering her take to criticize people who argue the popular v. electoral vote talking point (by all measures, Trump lost the popular vote in excess of two million votes). But Stephanopoulos refused to let it go.
"Kellyanne, that's not what I asked! No one is questioning the victory," he said, pressing her further.
"Is it appropriate, is it responsible, for the President-elect to make statements like that?" he continued. It would take him four rounds of phrasing the question in different ways before he called the interview quits.
"There is no evidence that there were millions of illegal votes. Zero," he said to Conway at one point. Conway focused her responses largely on the naysayers and protestors who "are trying to deny him his rightful victory," she alleged, discussing the recount effort.
"Simple question Kellyanne: is that statement by President-elect Trump true?" he pushed for a fourth time.
Here, Kellyanne Conway really got worked into the corner, and she literally froze and feigned as if she didn't hear the question, adjusting her IFB earpiece in the process. "I'm sorry?" she asked, and stalled out on her response before picking up the pieces and shifting attention onto the Clinton team, filibustering her final response until Stephanopoulos wrapped the interview.
Watch above via ABC.
—
J.D. Durkin (@jiveDurkey) is an editorial producer and columnist at Mediaite.
This is an opinion piece. The views expressed in this article are those of just the author.