Cop Accused of Telling Facebook Users They Can Legally Run Over #BlackLivesMatter Protesters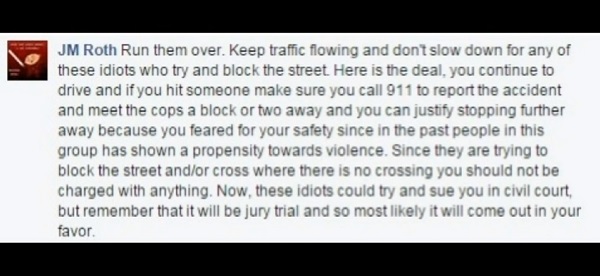 Looks like one of those very, very few bad apples is at it again. A St. Paul police sergeant has been placed on administrative leave after a civil liberties activist reported him to internal affairs for allegedly telling Facebook users that they should run over #BlackLivesMatter protesters who try to block traffic during a rally on Martin Luther King, Jr. Day, and also told them that they could do so without facing criminal penalty. Perhaps most tellingly, though, the officer's alleged comment told would-be vehicular assaulters that they'd likely escape civil penalty as well, because juries. The comment read (emphasis mine):
Run them over. Keep traffic flowing and don't slow down for any of these idiots who try and block the street. Here is the deal, you continue to drive and if you hit someone make sure you call 911 to report the accident and meet the cops a block or two away and you can justify stopping further away because you feared for your safety since the past people in this group has shown a propensity towards violence. Since they are trying to block the street and/or cross where there is no crossing you should not be charged with anything. Now, these idiots could try and sue you in civil court, but remember that it will be jury trial and so most likely it will come out in your favor.
The comment was reported by Andrew Henderson, who videotaped his call with SPPD Internal Affairs live and posted it on YouTube. Henderson accused the commenter of being SPPD Sgt. Jeffrey Rothecker:
Rothecker could not be reached for comment Monday. The St. Paul Police Federation, the union for St. Paul officers, is representing Rothecker. Chris Wachtler, the union's attorney, said in a statement Monday, "There is an investigation under way. We will let the process play out. I can't comment on an active investigation until it is complete."

…Henderson said he found evidence that "JM Roth" is Rothecker, which he provided to internal affairs, including that a woman whose last name is Rothecker had indicated on Facebook that she's married to "JM Roth." State records show a woman with that name is married to a Jeffrey M. Rothecker.

The head of the internal affairs unit, Senior Cmdr. Shari Gray, contacted Henderson after his initial report Saturday and they met Sunday. Henderson filmed the meeting with Gray and Sgt. John Wuorinen, an internal affairs investigator, and posted the video online Monday.

Henderson told them that when he saw the comment from "JM Roth," he thought, "You know, a police officer shouldn't be advising people to run over other people for just standing in the road. That's not reasonable to me. I don't know if that's reasonable to you.'
Yes, there is an ongoing investigation, but if this turns out to be as true as it already seems to be, I am looking forward to the 99.5 percent of police officers who are good apples coming out and jumping on this guy with both feet. But embedded in Rothecker's alleged comment is an uncomfortable truth that I've been writing about since long before a grand jury decided not to indict the officers in the Tamir Rice case. Even in the cases that do see an indictment, like the killing of Walter Scott by Officer Michael Slager, those seeking justice will still have to get past a jury, and that's going to make getting an indictment seem like child's play. Whoever posted that comment knew it.
This is an opinion piece. The views expressed in this article are those of just the author.