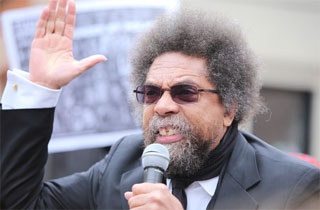 Dr. Cornel West is feeling, to put it lightly, somewhat maligned by a recent essay unflinchingly criticizing his life's work, written by a former advisee and printed in the New Republic.
Michael Eric Dyson's essay did not spare any aspect of West's career, accusing him of trading his intellectual prowess for a shot at prophetic stardom. Dyson also noted that he was motivated to write the essay after West, his former mentor, repudiated him and other African-American thinkers for not denouncing Barack Obama as a sellout to the black community. " It is sad to think that West aimed at me because my criticism failed to comport with his shrill and manic dispute with the president," he mused. "Our lost friendship is the collateral damage of his war on Obama."
West responded to Dyson's lengthy essay with a brief Facebook post, replicated below, accusing Dyson of engaging in "character assassination" obsessed with maintaining the "status quo":
The escalating deaths and sufferings in Black and poor America and the marvelous new militancy in our Ferguson moment should compel us to focus on what really matters: The life and death issues of police murders, poverty, mass incarceration, drones, TPP (unjust trade policies), vast surveillance, decrepit schools, unemployment, Wall Street power, Israeli occupation of Palestinians, Dalit resistance in India, and ecological catastrophe.

Character assassination is the refuge of those who hide and conceal these issues in order to rationalize their own allegiance to the status quo. I am neither a saint nor prophet, but I am a Jesus-loving free Black man in a Great Tradition who intends to be faithful unto death in telling the truth and bearing witness to justice. I am not beholden to any administration, political party, TV channel or financial sponsor because loving suffering and struggling peoples is my point of reference. Deep integrity must trump cheap popularity. Nothing will stop or distract my work and witness, even as I learn from others and try not to hurt others.

But to pursue truth and justice is to live dangerously. In the spirit of John Coltrane's LOVE SUPREME, let us focus on what really matters: the issues, policies, and realities that affect precious everyday people catching hell and how we can resist the lies and crimes of the status quo!
During an appearance on HuffPost Live yesterday, Dyson said that his critique of West was painful, but "vital and necessary" because of his nature as a public figure.
[Image via a katz / Shutterstock.com]
— —
>> Follow Tina Nguyen (@Tina_Nguyen) on Twitter
Have a tip we should know? tips@mediaite.com