Criminologist Accuses Local Journalists of Ignoring Chicago Police's Illegal 'Black Sites'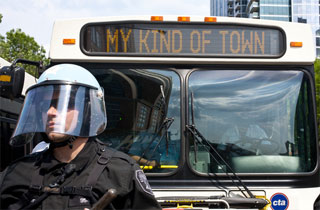 This morning, The Guardian published an explosive report about the Chicago Police Department's regular use of "black sites" to use Guantanamo-style interrogation techniques on people in their custody, and one of the biggest questions arising from this story is: why did no one report on it before?
During a discussion published in The Atlantic, criminologist Tracy Siska, who's also the executive director of the Chicago Justice Project, said that the existence of Homan Square, an empty warehouse used to detain and interrogate arrested protesters, gang members, and normal people, had probably started in 2006, but was well-known among the criminal justice community.
"There was knowledge in the police accountability community," Siska said. "We knew exactly where it was, but we couldn't get the press in Chicago to cover the story."
So why didn't the local press cover what could have been an explosive story?
Siska: I think that many crime reporters in Chicago have political views that are right in line with the police. They tend to agree about the tactics needed by the police. They tend to have by one extent or the other the same racist views of the police—a lot of urban police (not all of them by any stretch, but a lot of them) embody racism.

Basu: Why did The Guardian cover it then?

Siska: I think The Guardian, especially Spencer Ackerman, comes at it from a civil rights perspective. When he sees government doing something wrong, he goes after it. He came in looking for the Zuley story [in which a Chicago police detective went on to employ horrific torture at Guantanamo Bay] and ended up following up with this one.
As to why the rest of Chicago didn't know about the existence of Homan Square, Siska believes it's connected to race:
I think it's because under the law, people have a right to get counsel when arrested or when held but you're not provided free counsel like a public defender. Mostly who they take to Homan Square are black and brown and poor kids who can't afford to hire private counsel while they're in custody. That's a little nuance in the law that few know about.
The rest of the article drops even more astonishing facts about Homan Sqare
"Ninety-nine percent of the people from this site are involved in some form of street crime: gang activities, drugs—urban violent crime," says Siska. "That's what makes the site even worse. It takes Guantanamo-style tactics on urban street criminals and shreds the Bill of Rights."
[The Atlantic]
[Image via Theresa Scarbrough / Shutterstock.com
Have a tip we should know? tips@mediaite.com