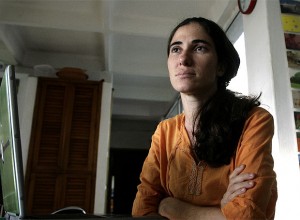 Yoani Sanchez, a Cuban blogger known for her critical online missives about the communist government, was detained and beaten yesterday on her way to a march, CNN is reporting. Sanchez's website Generation Y gets around 1 million hits per month, and the government says she's "gone too far," according to her account of Friday's kidnapping.
An update today on her site includes a dramatic, descriptive report of what happened yesterday:
At one point I felt I would never leave that car. "This is as far as you're going, Yoani," "I've had enough of your antics," said the one sitting beside the driver who was pulling my hair. In the back seat a rare spectacle was taking place: my legs were pointing up, my face reddened by the pressure and my aching body, on the other side Orlando brought down by a professional at beating people up. I just managed to grab, through his trousers, one's testicles, in an act of desperation. I dug my nails in, thinking he was going to crush my chest until the last breath. "Kill me now," I screamed, with the last inhalation I had left in me, and the one in front warned the younger one, "Let her breathe."
She then laments about explaining the events to her son:
How am I going to tell him that we live in a country where this can happen, how will I look at him and tell him that his mother, for writing a blog and putting her opinions in kilobytes, has been beaten up on a public street.
It's all highly graphic and emotional, but as CNN notes, "There was no immediate comment from the Cuban government on Sanchez's claims, which CNN could not independently verify."
You can read Sanchez's whole account here.
(via CNN)
Have a tip we should know? tips@mediaite.com