Dan Rather on the GOP: 'Never Seen So Many Members of a Political Party Rally Around Incompetence'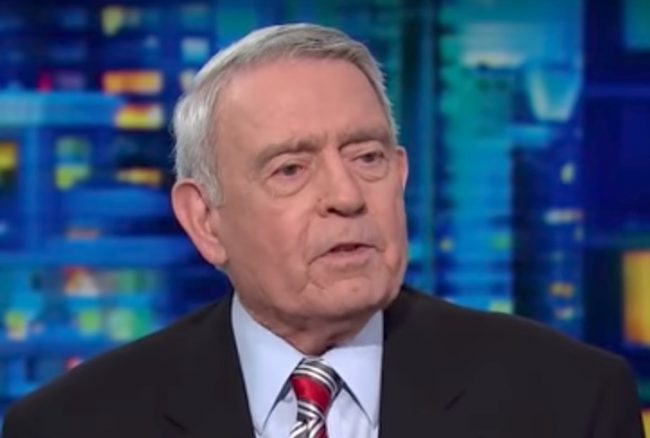 Damn, Daniel! Back at it again with the inspiring Facebook messages!
The Daniel referred to here, if you're wondering, isn't a fresh high schooler with pure white Vans. It's Dan Rather, who, actually, come to think of it, might be wearing Vans. Does anyone have eyes on Rather? Can we check this out?
Anyway, yesterday, Rather did what he's gotten best at lately: he wrote a stirring Facebook post.
Check it out:
The veteran journo reflected on the past week, which saw some truly crazy news coming out of Donald Trump's White House:
I have seen weeks of far greater darkness, of war, and death, and economic despair. I have seen weeks of more confusion and uncertainty. But I have never seen a week where a president of our nation has behaved with such a cavalier disregard for the norms and institutions of our democracy. And it now seems like the investigation is expanding into Trump's business dealings. The comparisons with Richard Nixon are plentiful these days, but even he did not seem so untethered from our basic governance. And I have never seen so many members of a political party rally around incompetence, intemperance, and inanity.
His past Facebook messages have been admissions that he "shed a tear" for the country after Trump's travel ban rolled out and scoldings of the press for lauding Trump too easily, but though his latest one featured similarly dark tones, it ended on a happy note.
After lambasting Trump's administration for "the threats, the lies, [and] the willful disregard for the rule of law," he wrote, "I remain, however, an optimist."
What is energizing him and keeping him optimistic, for the record, is the uptick in civil engagement he's noticed as a result of all the things he criticizes.
[image: screengrab]
Have a tip we should know? tips@mediaite.com