Darth Elevator: Mitt Romney Says Yes To Car Elevator, No To Elevator For Disabled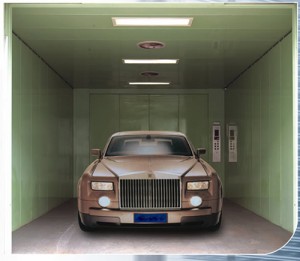 In the wake of the revelation that former Massachusetts Gov. Mitt Romney plans to add a car elevator to his La Jolla estate, and his campaign's subsequent defense of said elevator, Buzzfeed has been buzz-fed some oppo research that shows Romney, as Governor, once vetoed a bill that would have, among other things, funded a $40,000 upgrade to make elevators compliant with the Americans with Disabilities Act.
From Buzzfeed:
His appreciation of elevators in his capacity as a private citizen didn't show up, however, when he was Governor of Massachusetts. In particular, Romney — like man Republicans — was hostile to requirements for elevators imposed by the Americans Disabilities Act (ADA). In two items flagged by a Democratic operative, Romney vetoed legislation that would have improved elevators for the disabled.

On June 26, 2006 Romney vetoed an improvement project with the price tag of $40,000 with his line item veto. The project would have allocated the money to Woburn Development Authority for improvements to an elevator to meet the standards set in the ADA.

Also on that day Romney vetoed an additional $25,000 to the Braintree, Massachusetts Council on Aging. The money was again proposed to meet improvements with the ADA.
I know what you're thinking, but really, with all the energy they save getting those great parking spaces, can't these people take the stairs for a change?
Romney's campaign defended the elevator earlier, arguing that it was "simply a mechanism for storing cars in tight spaces," so Romney is actually being consistent here; his car's elevator probably won't be ADA compliant, either.
That explanation hasn't satisfied critics, so in an effort to help, here are the Top Five Reasons Mitt Romney Needs A Car Elevator:
5. Mitt Romney Needs A Car Elevator Because…Ann's Cadillacs really like listening to Girl From Ipanema.
4. Mitt Romney Needs A Car Elevator Because…A mansion-lowerer would be kind of a dick move.
3. Mitt Romney Needs A Car Elevator Because…His Bentley is afraid to get on an escalator.
2. Mitt Romney Needs A Car Elevator Because…Cars are people too, my friend!
1. Mitt Romney Needs A Car Elevator Because…How else is he supposed to get the dog on the roof?
Have a tip we should know? tips@mediaite.com