David Frum Accuses NY Times and Reuters of Staging Photos of Weeping Gazans; Gets Debunked
Still Waiting on David Frum to Address His Claims the
Times
Staged Gaza Photo
David Frum: former George W. Bush speechwriter, conservative author, current senior editor at the Atlantic, and… potential conspiracy theorist?
Somewhat seems that way because on Tuesday morning, Frum took to Twitter to allege that the New York Times, Reuters, and the Associated Press all actively participated in using a "staged" photograph of bloodied Gazan men crying in a hospital following the shelling death of a man.
A friend asks: why does Hamas use faked atrocity photos http://t.co/8h7WfLYYFo when it cd photo real casualties?

— David Frum (@davidfrum) July 24, 2014
Faked photo leads NYT story today http://t.co/x08PRt4epG

— David Frum (@davidfrum) July 24, 2014
And the photos in question, first via NYT: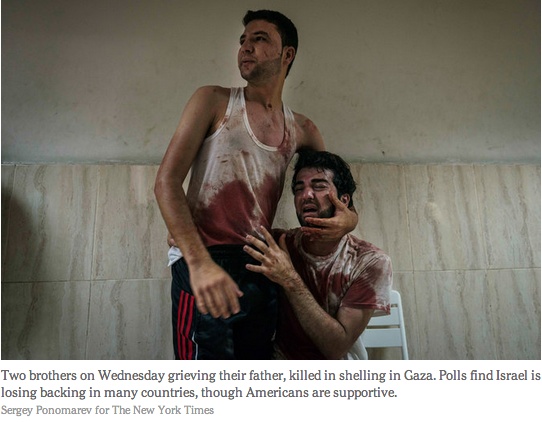 And the Reuters one: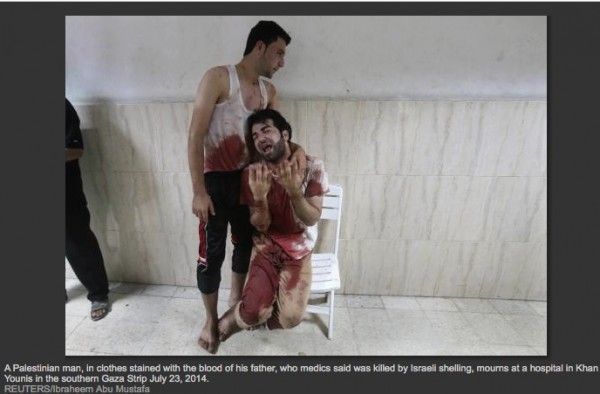 Already certain the photo is a fraud, based on blogger Thomas Wictor's notations, Frum later noted that "In the NYT version of the faked photo, the man does not yet have blood on his arms. Reuters was given its version later, I suppose."
He also suggested a belief that the three major media companies got behind a staged photograph of Gazan civilians in order to actively harm Israel's cause: "Photos of real civilian casualties would show too much truth about *why* those civilian casualties occur," he wrote. "Fakes on the other hand can be composed to suggest that Israel strikes Gaza civilians at random, purely to terrorize."
Over at BagNews, Michael Shaw wrote a lengthy fisking of Wictor's (and Frum's) accusations, which largely claimed that that the Gazan brothers must have posed for "clean-handed" portraits first (seen above) and then applied fake blood for the other, more urgent-looking photographs.
In response, Shaw attempted to place the relevant photographs in sequence of likely event, with the below four other photos involved in Wictor's claims likely coming before the above Times and Reuters photographs were taken. Their order, according to BagNews, should look like this: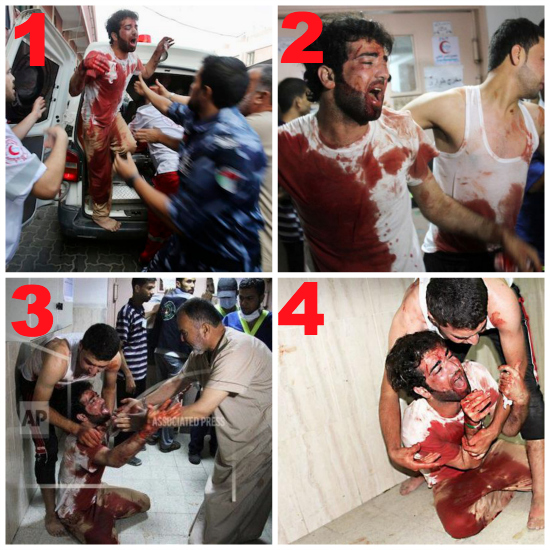 The rest of the fisking is extensive and thorough — I suggest you read it — but the main gist of the post: Wictor believes the photo was fake because: At one point, the weeping man's hair is matted with blood, and then it wasn't; the weeping man's hands were cleaned of blood; there were no visible tears in the images; and there is a discrepancy between the captions for the Times and Reuters photographs. Shaw casts serious doubt on all of those assertions.
And then came an interview with the Times photographer who snapped the first image up top, in which he describes a hospital scene that confirms Shaw suggested timeline:
In one ambulance there was a heavily injured older man and two younger men, and one of them was covered with blood and really upset. He fell on his knees, calling on Allah and gesturing.

There was a huge crowd around those people arriving, including guards and medical personnel. They went to the operating room and I followed them. The same upset man was yelling and gesturing, and we were all kicked out from the operating room so as not to distract the doctors.

Then he was gesturing and crying in the hospital corridor. I believe he was the son of the older man who was injured. So I photographed other people and then came back after the other media left him alone. I saw his brother take him to a nearby room and he must've washed him off because afterward there was no blood on his face and his hands were clean. He was sitting on the chair and seemed calmer, and that's when I took the photo.
Frum's reaction to the debunking?
I cast doubt on authenticity of a casualty photo from Gaza. This blogger says I was wrong. http://t.co/J2lOcFeYDH I'll review & reply

— David Frum (@davidfrum) July 29, 2014
We'll update if and when he does reply to Shaw's write-up.
UPDATE — 10:17 a.m. ET: Frum has yet to respond, but Times spokeswoman Eileen Murphy did tell Poynter, by email, that "David Frum's claims are false," adding:
"We have a complete account from the photographer, Sergey Ponomarev, who arrived with two other photographers to a local hospital as ambulances began arriving with dead and wounded civilians following an Israeli military strike on the outskirts of Khan Younis," Murphy writes in an email.

Ponomarev "witnessed the man covered in blood in this photo arrive in an ambulance with a badly wounded elderly man (who ultimately died)," Murphy writes. "He sent us 84 pictures in total that give a complete understanding of the events as they unfolded."
Once again, we will update if and when Frum does address his own claims.
UPDATE — 1:24 p.m. ET: Frum apologized and owned up to making false claims without any real evidence.
—
[h/t Trita Parsi]
[Photo credits: Sergey Ponomarev for The New York Times (top photo), Ibraheem Abu Mustafa/Reuters (second from top), Ibraheem Abu Mustafa/Reuters (#1), Abed Rahim Khatib/NurPhoto/REX via AP Images (#2), Abed Rahim Khatib/NurPhoto/REX via AP Images (#3), Hatem Ali/AP Images (#4)]
— —
>> Follow Andrew Kirell (@Andrew Kirell) on Twitter
Have a tip we should know? tips@mediaite.com