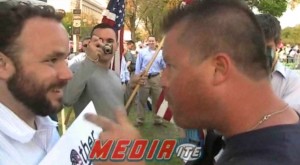 While a steady stream of global warming denying, socialism-invoking, Barack Hussein Obama-referencing speakers and country singers graced the stage at Freedomworks' Tea Party event, the real drama was at the perimeter of the event. A relatively small contingent of about 30 counter-protesters showed up to demand gratitude for their tax cuts on behalf of Barack Obama.
The leader of the protest, Alex Lawson, was also at last year's Tax Day Tea Party, as was I, and so was the Tea Party "Tyranny Response Team" member who showed up to confront him. The result is an entertaining clip that has a little bit of something for everyone.
I preferred not to edit this video, partially out of fairness, and partially because there's an arc to it that you don't often see with political confrontations. While some of the counter-protesters seem intent on goading the Tea Party crowd, Alex keeps his composure, and keeps things from getting out of hand.
There are a few points of interest here. Watch for the part where the angry guy (along with his buddy) gay-baits the protesters, then turns indignant 2 seconds later when he's called on it.
The most interesting thing, though, is the way the guy gets all calm and reasonable at the end. I saw a lot of heated conversations around that perimeter, but also a surprising amount of common ground. Of course, you don't see a lot of video of good behavior, because good behavior is bo-ring, but thanks to savvy organizing by Freedomworks, there was plenty to go around.
Have a tip we should know? tips@mediaite.com