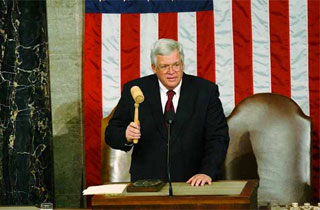 Former Speaker of the House of Representatives Dennis Hastert appeared before court yesterday, and while he asked that the state goes easy on his sentence, his team seemed noticeably dodgy about the precise reason why he was feeling "deeply sorry."
For those who don't remember, Hastert became a center of controversy last year after it was discovered that he engaged in fraud and violated banking laws in order to provide money to an unknown party. While Hastert was only charged for this activity, allegations have come up since then that he was trying to pay off a group of people who he sexually abused when he worked as a physical education teacher decades ago.
The former House speaker's attorneys submitted a filing to the District Court of Illinois, which read that months of controversy have taken their toll on him and that he should be sentenced to probation. While they glossed over the precise part of Hastert's "misconduct" that he regretted, the filing says that it is punishment enough that his record in public service has been tarnished, and it does not also warrant prison time.
"Mr. Hastert is deeply sorry and apologizes for his misconduct that occurred decades ago and the resulting harm he caused to others," set filing says. "He will stand before the Court having deteriorated both physically and emotionally, undoubtedly in part due to public shaming and humiliation of an unprecedented degree."
Hastert pled guilty to his charges back in October, and he is scheduled to receive his sentence on April 27.
[h/t Huffington Post]
[image via screengrab]
Have a tip we should know? tips@mediaite.com