Dershowitz Claims NY Times Didn't Run Op-Ed from Him Because It Wasn't 'Right Point of View'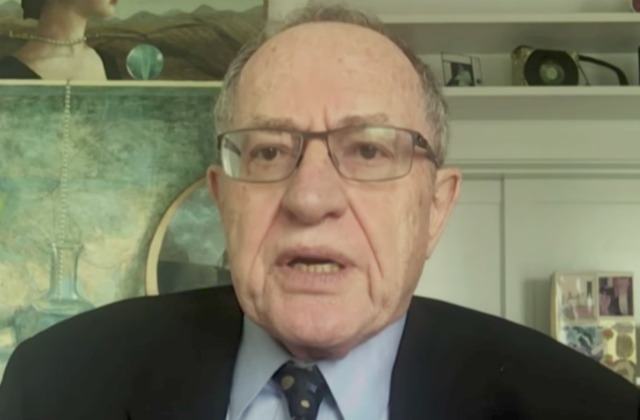 Harvard law professor, frequent cable news contributor, and "liberal Hillary Clinton supporter," Alan Dershowitz said that he reached out to the New York Times about writing an alternative opinion piece after reading an op-ed that claimed Donald Trump could be charged for criminal conduct in the firing of former FBI director James Comey, according to the Washington Examiner.
And he thinks he was ignored because "I don't have the right point of view."
"I said that I thought the readers of the New York Times were entitled to hear or read the other side of the issue whether there were crimes committed," said Dershowitz. "And I really do think The New York Times does not want its readers to hear an alternative point of view on the issue of whether or not Trump administration is committing crimes."
Dershowitz said that he was unsuccessful in his attempts to reach the Times' opinion editor, believing that the paper's decision to ignore his inquiries is likely because his opinion is "not the narrative they're pushing."
Dershowitz says that The Times "has been pretty one-sided" compared with other media outlets as he seems to be appearing on more conservative media outlets as of late.
Dershowitz has also deviated from his liberal colleagues in regard to the latest controversy surrounding Donald Trump Jr. and his alleged collusion with Russia.
On Saturday night, he defended the actions of Trump Jr. to Fox News' Jeanine Pirro.
"Under the campaign finance laws, I mean, there is a claim that if you get something of value, and they're alleging that information… from a foreign national could be, you know, stretched out to mean, you know, words," Pirro said. "Is that's something that's ever been prosecuted?"
"Of course not, and if it were to be prosecuted, the First Amendment would trump," Dershowitz replied. "A candidate has a right to get information from whatever source the information comes."
We have reached out to the Times for comment and will update if they respond.
[image via screengrab]
Have a tip we should know? tips@mediaite.com