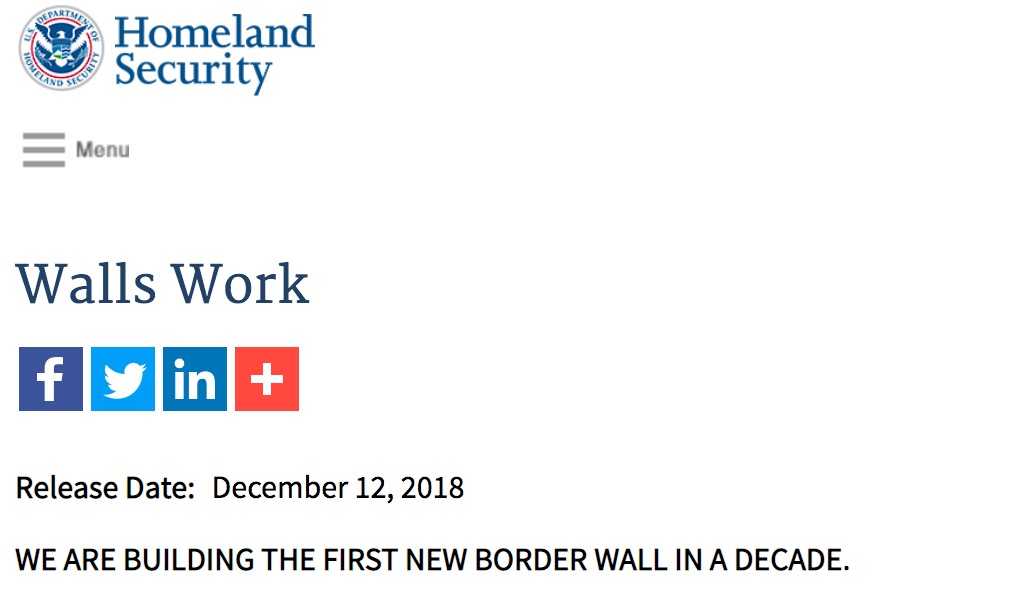 In a post on their official government site, titled, "Walls Work," the Department of Homeland Security announced their dedication to "building wall and building wall quickly."
The agency's Snopes-style, media fact-check blog came as President Donald Trump faces criticism for falsely claiming wall construction has already begun, despite the fact that his administration has yet to secure necessary funding for the project.
"WE ARE BUILDING THE FIRST NEW BORDER WALL IN A DECADE," the post states. "DHS is committed to building wall and building wall quickly. We are not replacing short, outdated and ineffective wall with similar wall. Instead, under this President we are building a wall that is 30-feet high."
"FACT: Prior to President Trump taking office, we have never built wall that high," the author added.
"Once funding was provided, DHS began construction of border wall exceptionally quickly, in some locations in as little as nine months from funding to building– a process that commonly takes two years or more in other parts of Government. By the end of FY 2019, DHS expects to have construction completed or underway for more than 120 miles in the areas it's most needed by the U.S. Border Patrol. The pace of construction has picked up as initial limiting factors like land acquisition and funding have been addressed."
As readers can gather from the DHS statement, they are not actually building "the wall" or "walls," they are instead installing additional fencing in areas — where "it's most needed" — that were already approved for such security measures.
The awkwardly-worded, overly eager statement received a round of mockery from journalists on Twitter, which can be seen below:
— Christopher Ingraham (@_cingraham) December 13, 2018
That DHS memo is real, here's the link —

"DHS is committed to building wall and building wall quickly….FACT: Prior to President Trump taking office, we have never built wall that high." https://t.co/3avPwxalmB

— Jake Tapper (@jaketapper) December 13, 2018
did… did a wall write this? pic.twitter.com/wODbt45X52

— Benjamin Dreyer (@BCDreyer) December 13, 2018
who at DHS hates using the words "an" "a" and "the" in their copy pic.twitter.com/RCADR5riVR

— maya kosoff (@mekosoff) December 13, 2018
I cannot believe this is a real DHS press release.

"DHS is committed to building wall and building wall quickly." https://t.co/8rDt5vU0Tb pic.twitter.com/GFR9p5Tdz0

— Robert Maguire (@RobertMaguire_) December 13, 2018
[image via screengrab]
Have a tip we should know? tips@mediaite.com