Did Robert Gates Just Admit That None of the 2016 Candidates Have What It Takes to Lead?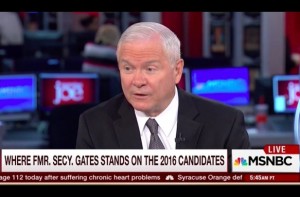 Former Secretary of Defense Robert Gates may have visited MSNBC's Morning Joe on Tuesday to promote his new book, but he left behind a spattering of revealing anecdotes on the 2016 election in a very unfiltered way.
"What will the next President need to carry over?" in order to continue our military efforts around the world, asked Mike Barnicle. Gates invoked an Oliver Wendell Holmes, Jr. assessment on the Presidency as the balance that makes for the best sort of leader:
"A second rate intellect but a first rate temperament."
Gates told the Morning Joe panel that a President like Franklin Delano Roosevelt knew he wasn't the smartest, but he was willing and self-confident enough to surround himself with people who were smarter. But as for President Obama?
"The President is quoted as having said to his staff, 'I can do every one of your jobs better than you can.' He has centralized power and operational activities of the government in the White House to a degree that I think is unparalleled.
As for the increased campaign trail rhetoric to take an aggressive stance against ISIS ("bomb the shit outta them" and "make the sand glow"), the decorated and well-respected Gates noted bluntly, "First of all they don't know what they're talking about… [it's] a total disregard for civilians." He continued, "The solutions being offered are so simplistic."
When Bloomberg's John Heilemann pressed Secretary Gates to identify the greatest attributes of each of the last three Commanders in Chief, he defiantly noted his response to which of the current candidates vying for the White House fit the bill:
"I don't see any."
Mika Brzezinski pressed about other establishment candidates who may be better options, such as John Kerry or Joe Biden. To each of these suggestions, Gates emphatically stated that in his view, neither had what it would take.
Gates' new book A Passion for Leadership is a collection of learned lessons from his years in public service, highlighting the values of leadership and what makes for a positive team dynamic.
Watch the above video from MSNBC.
—
J.D. Durkin is the Senior Editor of Mediaite. You can follow him on Twitter @MediaiteJD.
Have a tip we should know? tips@mediaite.com